This dish is a type of tsukemono, or "pickled thing". What's special about this Japanese recipe is the way the cucumbers are cut.
You score one side of each cucumber more than halfway deep with close horizontal lines, then score the other side equally deep with close diagonal lines. Don't be afraid to cut very deep – place disposable chopsticks on either side of the cucumber to stop you from cutting all the way through. Pull on the ends of the cucumber and it will stretch out like an accordion!
This method of cutting is called jabara, or snake belly, and if you look closely at the scoring pattern, you'll see the resemblance! This technique helps the cucumber soften and absorb more dressing while pickling, and it looks good too!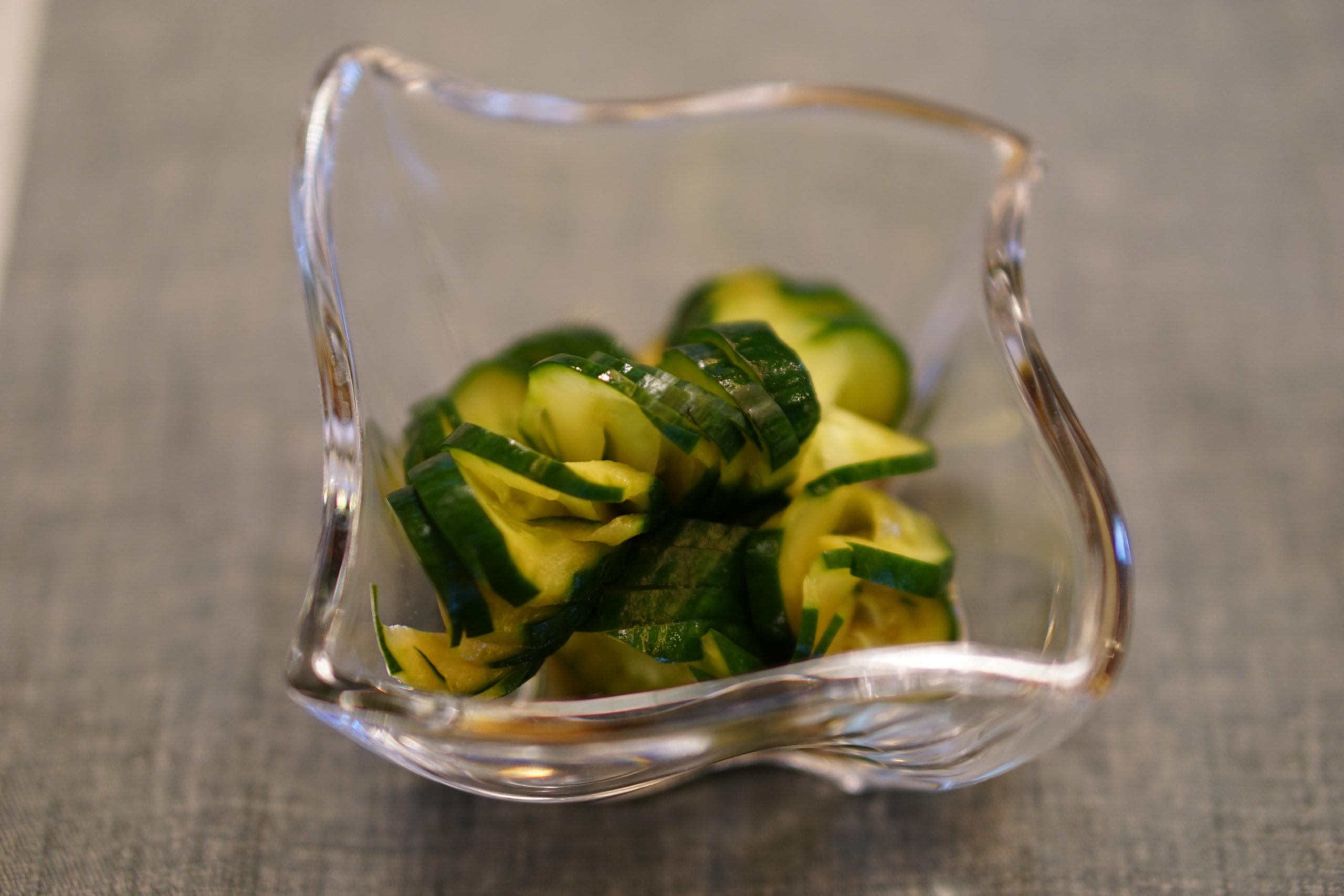 Cucumber with Soy Sauce Dressing
Ingredients
3

cucumber

3

pinches

salt

3

tbsp

soy sauce

1½

tbsp

rice vinegar

1

pinch

sugar
Instructions
Wash the cucumbers, then sprinkle with a pinch of salt each, rubbing it in to coat. Put the cucumbers on the cutting board and roll back and forth, as if using a rolling pin (to soften it and help absorb the salt).

Peel off a strip of skin lengthwise on two sides of the cucumber. Make deep horizontal scores on one unpeeled side, and deep diagonal scores on the other. This technique is called jabara, which means snake belly, and results in a pretty shape!

Cut into bite-size pieces and put in a bowl with the seasoning ingredients. Top with a smaller weighted bowl (or use a pickle press!) and set aside for at least 30 minutes.