Udon is a type of noodle made of wheat flour, kneaded and cut into long, fairly thick strips. Although the origin of udon is up for debate, it has been a part of Japanese cuisine since ancient times.
Some scholars date the first appearance of udon in Japan back to the Nara period (710-794). During this time Japanese envoys to China tasted sweets made from wheat flour dough. The envoys brought flour back to Japan and used it to make boiled cakes filled with red bean paste, known as konton. This name eventually changed to unton, and finally udon. And the form changed too – from a boiled pastry to the thick noodles that we know today!
Other scholars say that the noodle was imported during the Heian period (794-1185), or even as late as the Kamakura period (1185-1333), when flour milling technology was introduced to Japan. However, most can agree that udon originates from China, where a very similar noodle called cumian can be found today.
In the olden days, people often served udon soup as a remedy for the common cold. Piping hot udon is easy to digest and good for warming up the body, and its dashi broth is nourishing in and of itself. A hot bowl of udon, some warm blankets, medicine and a good night's sleep were touted as the surest cure for the common cold. This is a belief that many Japanese people still practice today.
There are countless ways to prepare and serve udon, and also many regional preferences. We're keeping it simple with the recipe below. It's a basic kake udon (noodles in hot broth), topped with negi and egg. But if you add flavoured fried tofu it becomes kitsune udon! And if you're feeling fancy, give our kakiage recipe a try!
Simple Udon Soup
Ingredients
2

packs

udon noodles

pre-cooked or frozen

1

egg

1

naganegi (Welsh onion)

4

cups

dashi

1

tbsp

mirin

2

tbsp

soy sauce
Instructions
「PREP」Cut the naganegi into thin diagonal slices. Crack open the egg into a bowl and lightly beat.

Put the dashi broth into a large pot and bring to the boil. Add the mirin and soy sauce.

Add the udon and boil 1 minute less than package instructions (usually 2-3 minutes for pre-cooked or frozen udon).

Pour the egg in, add the negi and cook for 1 additional minute. Serve hot!
Best udon toppings to try next!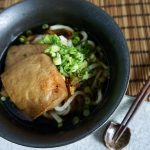 Kitsune udon no o-age
This flavoured fried tofu recipe is a great topping for hot udon soup.
Check out this recipe
Kakiage
Kakiage is a colorful harmony of ingredients with a crispy texture. It goes great on top of rice bowls, soba or udon noodles!
Check out this recipe
Did you make this recipe?
Please let us know how it turned out for you! Leave a comment below and tag @oishiwashokurecipes on Instagram and hashtag it #oishiwashokurecipes.