Somen is a very thin type of Japanese noodle made of wheat flour. It's most commonly eaten cold as a light summer meal, accompanied by dipping sauce and a number of yakumi, or toppings. It is also served hot in the winter months, in a soup called nyumen (simmered noodles).
Part of the fun of eating cold somen is the variety of presentation options, ranging from simple (in a large communal bowl of ice water) to kind of adventurous (flowing down a bamboo slide with running water that eaters have to catch their noodles out of, a.k.a. nagashi-somen)!
In our version below we arranged the somen in coils. This can be a little tricky the first time, and although one aspect of washoku is its aesthetic value, the most important part is to enjoy making and eating it! So if you don't want to coil them up (nor cut yourself some bamboo to fashion a slide for them :P) toss the noodles into one large shared, or a few small individual, bowls of ice water.
Another great thing about this Japanese recipe is… you don't have to follow the recipe! At least not in terms of toppings – use as many or as few as you like from among our suggestions below, or try your own!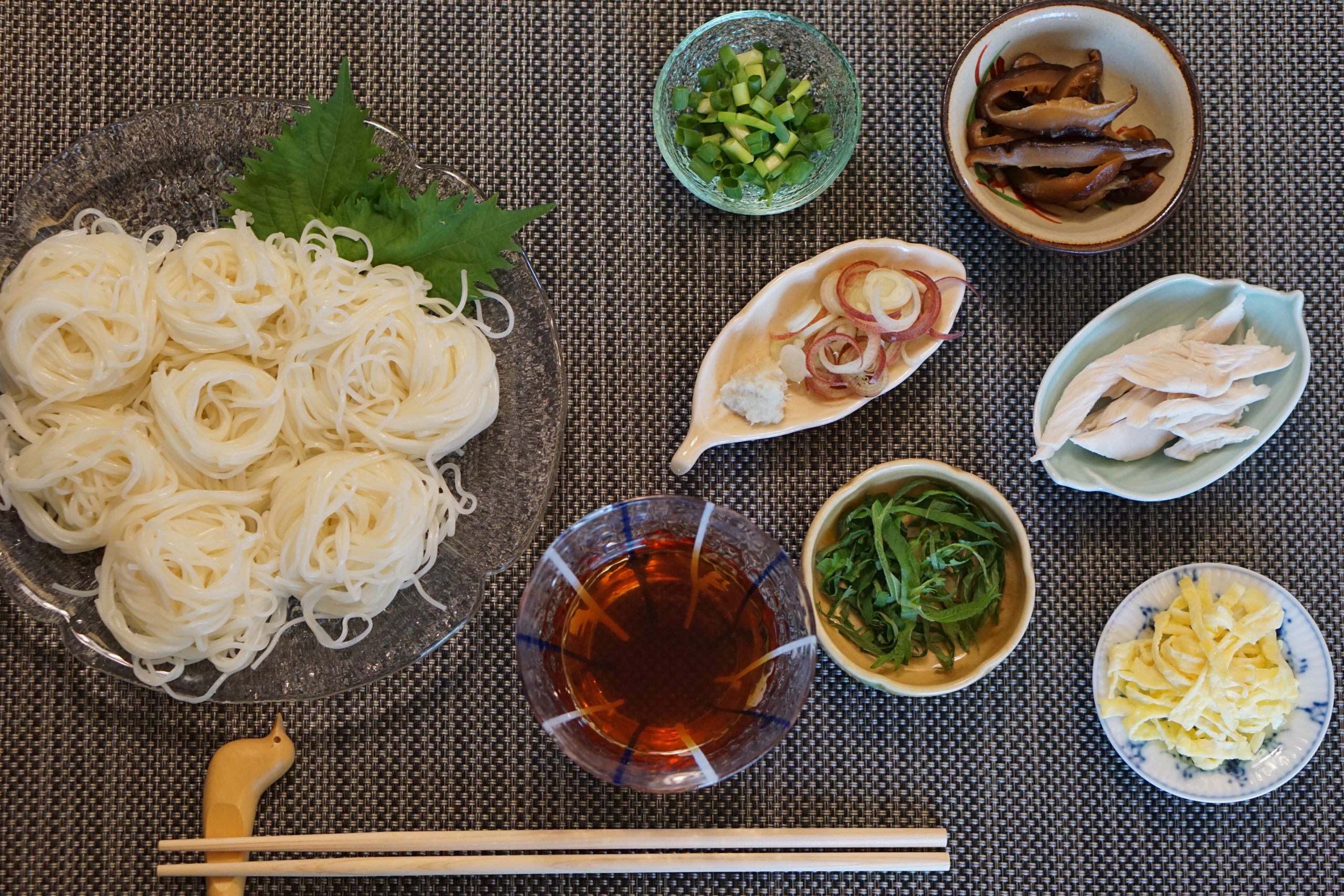 Cold Somen
Ingredients
400

g

somen

6

stalks

scallions

2

buds

myoga

Japanese ginger

1

kinshi tamago

1 egg's worth

2

piece

grated ginger

5

leaves

shiso

4

chicken tenders

1

pinch

salt

2

tbsp

sake

2

dried shiitake mushroom

25

mL

sake

25

mL

mirin

20

mL

soy sauce

1

tbsp

sugar

100

mL

reserved soaking liquid

mentsuyu
Instructions
「PREP」Put the shiitake in a bowl of water to soak for at least an hour. (If you don't have the time, put shiitake in a bowl with a bit of sugar, cover and microwave for 2 minutes.) If making it yourself, prepare the mentsuyu sauce. Prepare the kinshi tamago. Chop the scallions. Slice the myoga. Grate the ginger. Julienne the shiso. Sprinkle the chicken with a pinch of salt and 2 tablespoons of sake. Cover and microwave for 3-4 minutes, or until cooked.

Put the sake, mirin, soy sauce, sugar, shiitake and 100 mL of the shiitake soaking liquid in a pot. Cook over low heat with a drop lid for 15 minutes. Slice the shiitake.

Bring a large pot of water to the boil and add the somen, cooking according to package instructions (usually 1-3 minutes). Drain and thoroughly rinse the somen under cold running water, rubbing with your hands to remove excess starch (but let it cool down under the water a little first!)

Arrange the somen in coils on a plate (or place into one large shared, or four individual, bowls of ice water. Or drop a little at a time down a bamboo slide for your guests to catch with their chopsticks!) Serve with the dipping sauce and toppings.
Did you make this recipe?
Please let us know how it turned out for you! Leave a comment below and tag @oishiwashokurecipes on Instagram and hashtag it #oishiwashokurecipes.