Soboroni refers to any dish in which minced meat (soboro) is simmered (niru). You can make soboro with minced beef, pork or chicken, fish flakes, bits of shrimp, or even scrambled eggs or tofu. Take your pick of protein! Pre-season the protein or cook it as is, but it needs to be cooked until quite crumbly, with no remaining liquid.
Soboro is a common topping for rice, or a bento filler. Pair it with kabocha squash as in the recipe below, or experiment with other starchy vegetables. Potato, yam and different kinds of squash will absorb flavour from the simmering ingredients just as happily as kabocha does.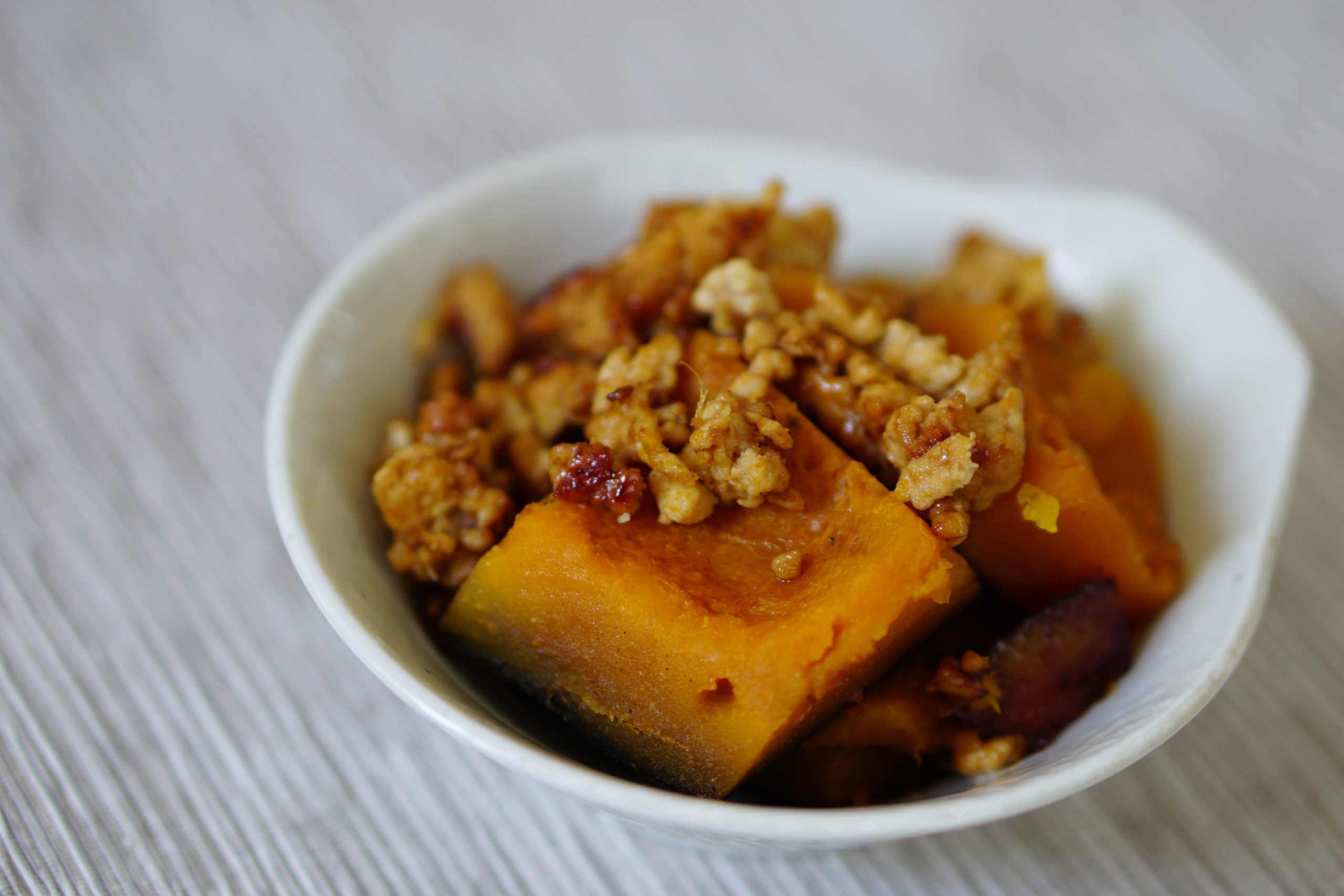 Kabocha soboroni
Ingredients
250

g

kabocha squash

½

inch piece

ginger

100

g

minced meat

(beef, pork, chicken or other protein)

1½

cup

dashi

1

tbsp

sesame oil

1

tbsp

soy sauce

(seasoning)

1

tbsp

sugar

(seasoning)

1

tbsp

sake

(seasoning)
Instructions
「PREP」Cut the kabocha into bite-sized cubes, then peel and finely chop the ginger. Mix the seasoning ingredients in a bowl.

Stir-fry the ginger and minced meat in a frying pan over medium heat. When the colour changes, add the kabocha, dashi and seasoning ingredients. The liquid should almost cover the ingredients.

Bring to a boil and remove the scum.

Cover with a lid or otoshibuta (drop lid – the one in the picture is our improvised version!) and cook for another 7-10 minutes, or until the liquid has reduced by half or two thirds. If the liquid reduces before the kabocha has softened, add water as required.
Did you make this recipe?
Please let us know how it turned out for you! Leave a comment below and tag @oishiwashokurecipes on Instagram and hashtag it #oishiwashokurecipes.