Seiro is the name of the boxed dish and bamboo mat traditionally used for chilled soba noodles. It is common to serve cold soba with chicken (tori) or duck (kamo), hence the name tori seiro. If you don't have a seiro dish, use a zaru, a bamboo-woven circular dish also traditionally used with chilled soba. Or you can simply pile your noodles onto a regular plate. Some people even serve the soba on a bed of ice cubes to keep them extra frosty. If using a bamboo seiro or zaru however, be sure to wet it before putting the noodles on, to prevent them from sticking.
Soba is one of the healthiest noodles. It comes from buckwheat, which isn't actually a cereal grain – it's a fruit seed! The husk is removed and the seed is ground into a powder which is used to make the noodles. Although specialty stores and restaurants may carry 100% buckwheat flour soba, the noodles usually include at least 20% wheat flour, if not more. So read the label carefully if you are seeking out soba as a gluten-free noodle alternative! 
Buckwheat is a great source of nutrients such as manganese and dietary fibre. It also contains flavonoids such as rutin, which promotes cardiovascular health. Because rutin dissolves in water, the water in which the soba was cooked actually contains more of this flavonoid than the noodle itself. But the wisdom of washoku is indeed great. It is traditional to drink this cooking water, called soba-yu, at the end of the meal by pouring it into the leftover dipping sauce. No nutrient goes to waste with this delicious recipe!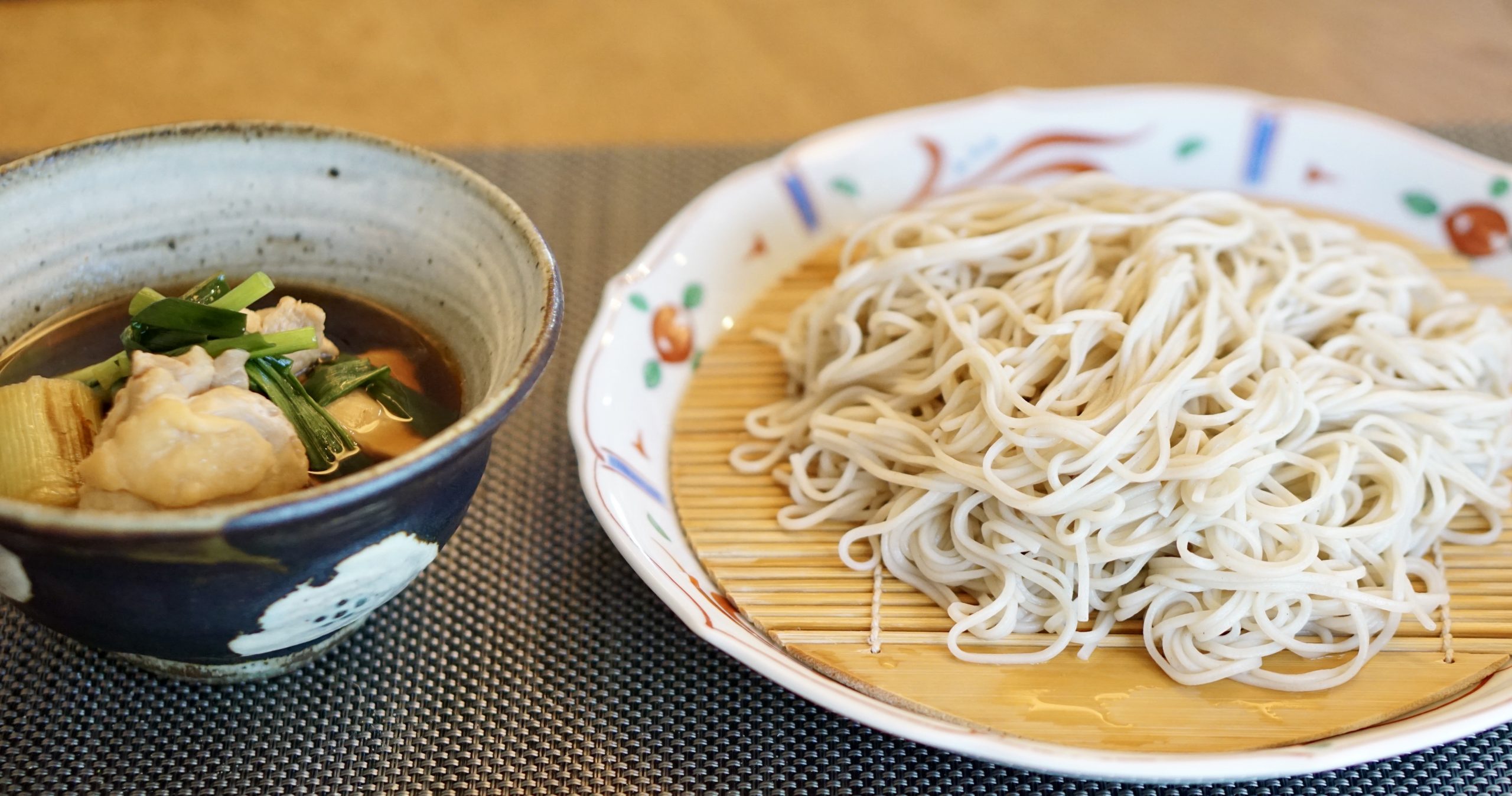 Tori Seiro
Cool soba noodles with chicken and naganegi in a comforting dashi-based broth, tori seiro cools the body and warms the heart ☺️
Ingredients
200

g

chicken thigh

1/2

stalk

naganegi (Welsh onion)

6

stalks

green onion

200

g

soba noodles

shichimi togarashi

to taste (optional)
Dipping broth
400

mL

dashi

2

tbsp

mirin

3

tbsp

soy sauce

1

tbsp

sake
Instructions
「PREP」Cut the chicken into bite-sized pieces. Cut the naganegi and green onions into 5-6 cm long pieces.

Put the chicken skin-side down in a nonstick frying pan. Cook over medium heat until some fat is released from the chicken skin. Add the naganegi and cook until the chicken changes colour, flipping both chicken and naganegi once so they don't burn.

Put the dipping broth ingredients in a pot along with the chicken and naganegi, cooking over medium heat for 10 minutes. Add the green onions towards the end of the cooking time.

While waiting for the broth to cook, bring a pot of water to a boil. Add the soba and cook according to package instructions, stirring occasionally. Then drain out the boiling water (reserving about 500mL for soba yu if desired) and rinse noodles under cold running water. Place them in a bowl of ice water to soak for 1 minute, then drain thoroughly.

Place the soba on two dishes (or seiro / zaru), and ladle the soup into two bowls. Top soup with a sprinkling of shichimi tougarashi if desired, and feel free to add some soba-yu to the soup broth after eating. Enjoy!