Agedashi tofu is an easy and delicious traditional dish you can find as an appetizer at Japanese izakayas. Similar to our tofu steak recipe, this one is usually deep-fried (although we actually pan-fried here, which makes for easier clean-up), and is served in a delicate dashi-based sauce. Be sure to drain the tofu before cooking for best results. Use soft, silken tofu for the magical melt-in-your mouth inner texture, and potato starch for the perfect outer layer crispiness.
Soaking in its dashi bath, the bottom half of your tofu cubes will absorb the broth while the upper half will remain crispy – and you'll get to taste the best of both worlds. We enjoy simple but flavourful toppings such as green onion and grated daikon with a pinch of shichimi tougarashi, but feel free to top it with dried bonito flakes, grated ginger, or finely sliced shiso or myoga.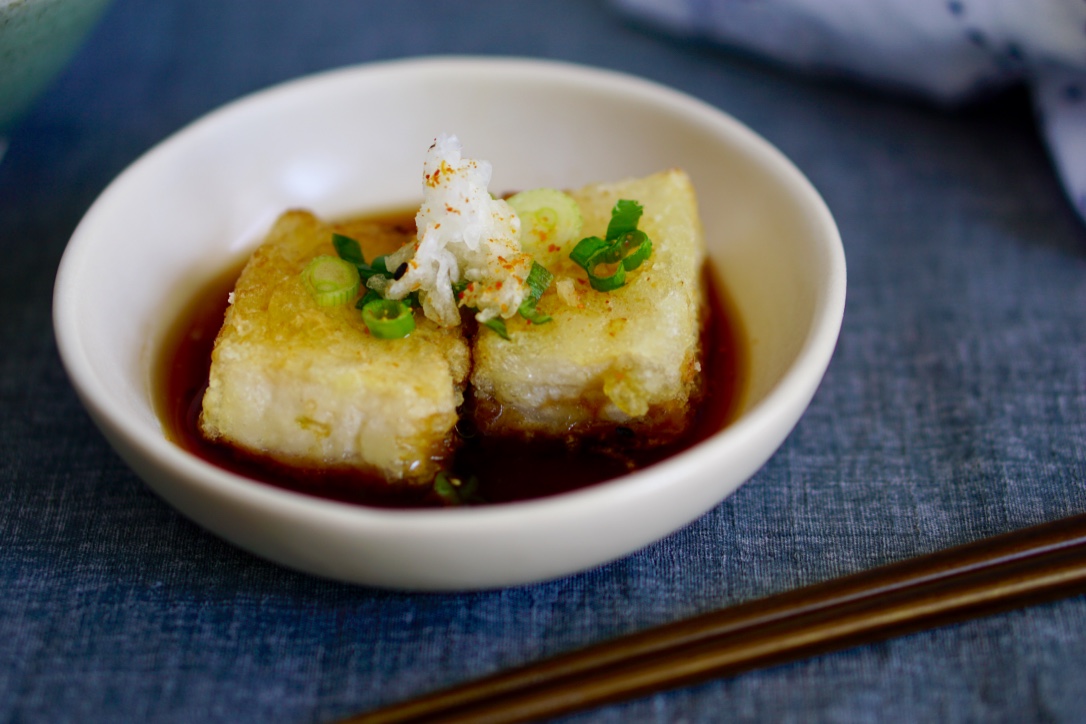 Agedashi tofu
Ingredients
1

block

silken soft tofu

around 340 grams

¼

cup

potato starch

for coating

cooking oil

enough for frying

1

stalk

green onion

100

g

daikon

1

pinch

shichimi tougarashi

200

mL

dashi

50

mL

soy sauce

25

mL

mirin
Instructions
Cut the tofu into 2-3 cm pieces. Wrap in paper towel and weigh down with a dish to drain for at least 15 minutes.Cut the green onion finely, and grate the daikon.

Pour the sauce ingredients into a saucepan and bring to a boil, then turn off the heat.

Coat the tofu pieces lightly in potato starch, brushing off the excess. Heat oil to 360F in a deep fryer or medium saucepan, or over medium-high if pan-frying. Deep-fry until crispy and slightly golden, or pan-fry for about 1 minute per cube face. If deep-frying, make sure to drain on a rack or paper towel-lined plate before dishing up.

Place tofu in shallow serving dishes, top with grated daikon, green onion and a sprinkling of shichimi tougarashi, and drizzle with sauce until almost halfway up the tofu blocks. Enjoy!