Nanbanzuke literally translates to "pickled southern barbarian"! The dish is pickled (tsuke or zuke) in a style reminiscent of Mediterranean cuisine, notably that of the Portuguese traders in 16th century Japan who were referred to by locals as southern barbarians. Well, if you can't beat them, eat them! Ahem.. I mean eat like them!
This recipe is often made with Japanese horse mackerel, but other kinds of fish and even chicken can work deliciously – we used salmon here. Feel free to mix up the vegetables too, though carrots and onions are the most traditional. Marinate it in the fridge for at least 30 minutes, but a few hours to overnight is better.
It is said that eating vinegar-flavoured dishes helps cut through the heat of summer, so nanbanzuke is perfect for those of you struggling through heat waves like me! This dish is also usually served cold, another reason to add it to your list of cool and refreshing summer recipes!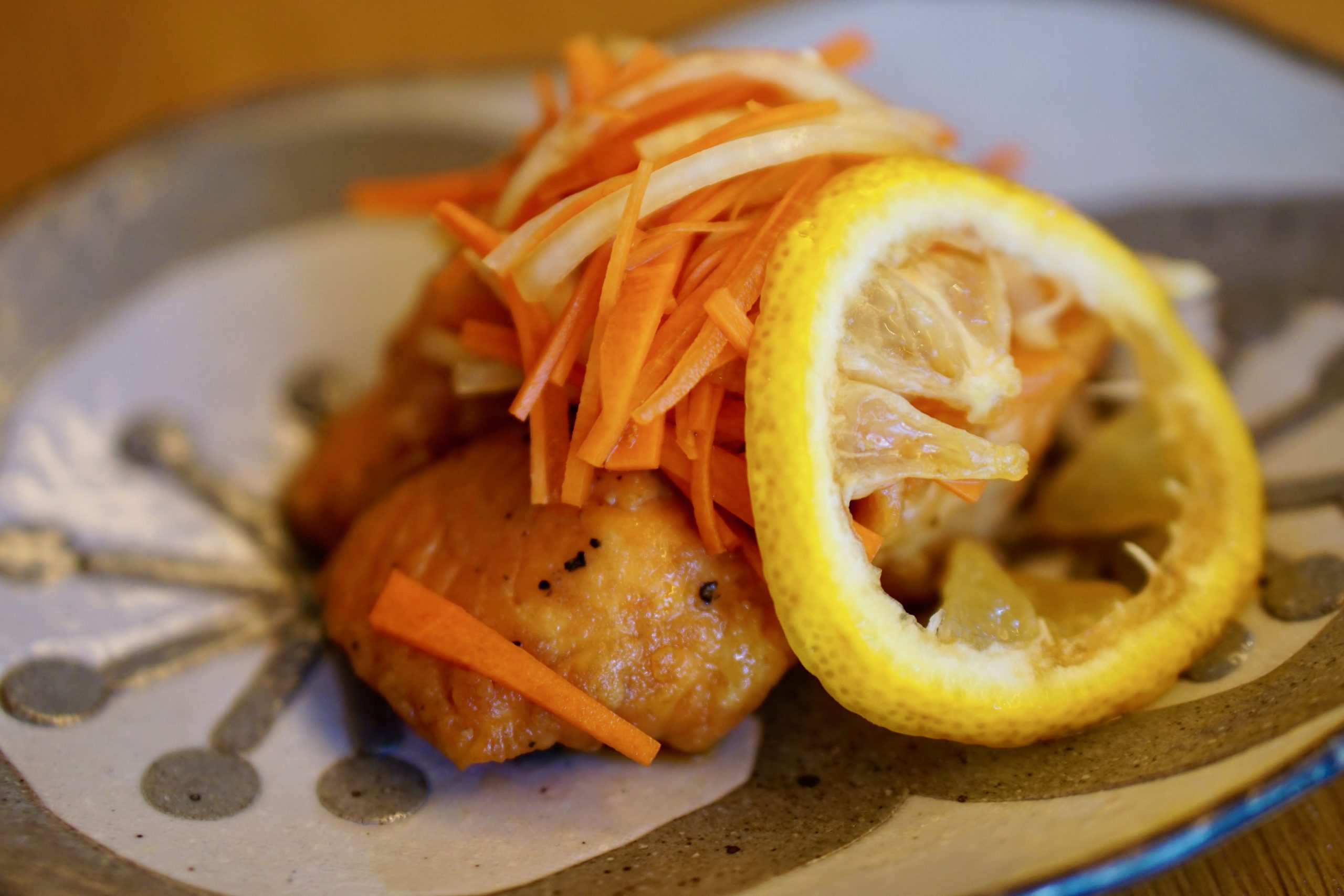 Salmon Nanbanzuke
Ingredients
40

g

carrot

about ¼ medium carrot

5

g

ginger

50

g

onion

about ¼ onion

2

salmon filets

about 150 grams each

1

pinch

salt

1

pinch

pepper

flour

for coating

vegetable oil

for deep frying

½

yuzu

or lemon or lime

100

mL

dashi

40

mL

soy sauce

50

mL

rice vinegar

2

tbsp

sugar

yuzu juice

or lemon or lime to taste

salt

to taste

1

dried red chili peppers
Instructions
Cut the yuzu (or lemon or lime) in half. Cut one half into slices, and keep the other half to use in the pickling marinade.Cut the dried chili into flakes, removing the seeds if you don't want it too spicy.Mix the marinade ingredients together.Peel the carrots and cut into 5cm lengths, then julienne.Peel and julienne the ginger.Thinly slice the onion.

Cut the salmon filets into large bite-sized pieces and season with salt and pepper. Set aside for 2-3 minutes to draw out excess moisture, then pat dry and lightly coat with flour.

Pour about 3cm of vegetable oil into a deep saucepan and bring to a temperature of 180-190C. Deep-fry the salmon in batches for about 3 minutes per batch, making sure not to overcrowd the pan. When the salmon is crispy, remove from pan and drain on a paper towel lined rack.

Put the salmon in the marinade while still hot, top with vegetables and sliced yuzu, and set aside for at least 30 minutes to cool. Once cooled to room temperature, either serve as is or refrigerate – it tastes even better the next day!