Karami mochi generally refers to mochi topped with grated daikon and soy sauce, and is also known as oroshi (grated) mochi. Other common toppings include katsuobushi flakes, nori, chili pepper and green onions.
Karami means 'spicy taste', which can be a fitting description of the peppery daikon radish. Depending on which part of the radish is grated, its level of spiciness changes; the lower you go, the spicier, so use the bottom tip if you want a stronger taste. If you find it too strong, wait a bit – grated daikon's spiciness fades with time as its vitamin C breaks down. But don't let it wait too long, as the overall flavour will fade as well.
We used the daikon's spicy tip for the recipe below, and we included shichimi tougarashi and raw green peppers to intensify the taste. We kept the traditional katsuobushi flakes, but switched up the usual soy sauce for ponzu to add a citrusy twist. Feel free to experiment yourself!
And what is mochi? The best thing since white rice, is what! Mochi is made from glutinous rice pounded into a gooey glob, and is used in sweet and savoury dishes alike. Mochi is a big part of the Japanese New Year cuisine, so we made a series of three mochi recipes for you to try this season. Try our isobe mochi and anko mochi too!
Below we used kiri mochi, or kaku mochi, which is cut (kiri) into rectangular (kaku) pieces, dried and packaged to last longer than fresh mochi. You can find kiri mochi in most Japanese or Korean grocery stores, and it's an easy alternative to making your own from scratch! Kiri mochi is dense and dry, so it needs to be either grilled or boiled before eating (we've boiled it in the recipe below). Also, please chew carefully!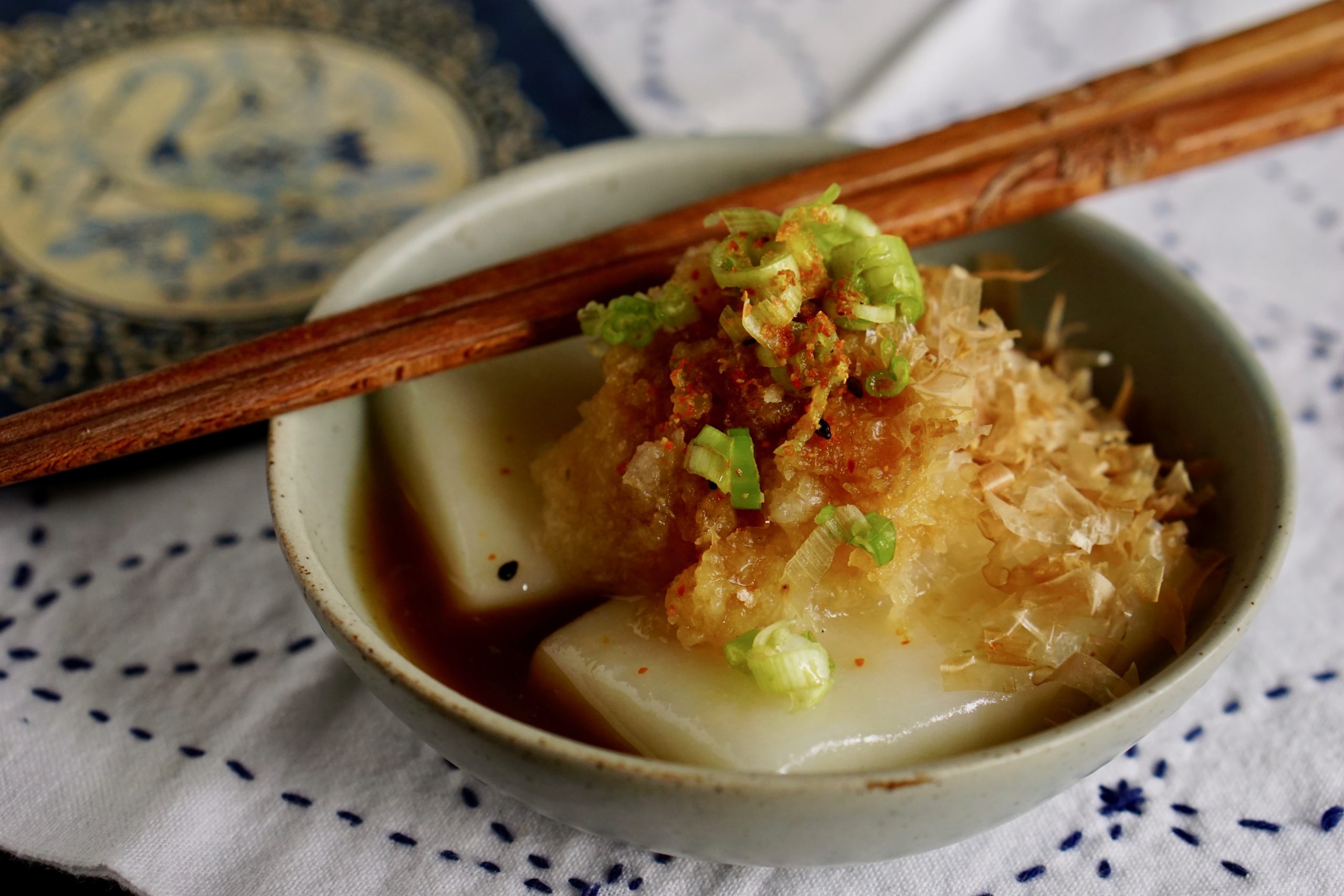 Karami Mochi
Mochi is most often served in Japanese desserts with the sweetest of ingredients, a pairing appreciated the world over. But how about adding some spice to your mochi for a change?
Ingredients
4

pieces

mochi

150

g

daikon

5

g

katsuobushi

2

stalks

green onion

ponzu

to taste

shichimi tougarashi

to taste
Instructions
Peel and grate the daikon.Slice the green onions.

Put the mochi into a pot and add enough water to cover it. Bring the water to a boil over high heat, then simmer on low for about 3 minutes. Remove the mochi from the pot and lightly wipe with kitchen paper.

Put the mochi on a plate and top with a mound of radish. Drizzle with ponzu, then add green onion, katusobushi flakes and shichimi tougarashi to taste. Enjoy!
Did you make this recipe?
Please let us know how it turned out for you! Leave a comment below and tag @oishiwashokurecipes on Instagram and hashtag it #oishiwashokurecipes.