Nikumaki refers to vegetables wrapped (maki) in meat (niku). The meat used for wrapping is usually thinly sliced beef, although pork is also common. You can use almost any kind of vegetable for the filling, but long and thin veggies work best, such as asparagus, green beans and enoki mushrooms. In the recipe below, we use carrot and gobo (burdock root).
Burdock root is one of my favourite Japanese vegetables. It is rich in vitamin B6 and antioxidants, but I love it for its uniquely earthy taste. The carrot's sweetness, the umami-rich beef and a sweet-salty sauce complement gobo's earthiness perfectly. Make a bit extra, so you can enjoy the leftovers in your bento for lunch!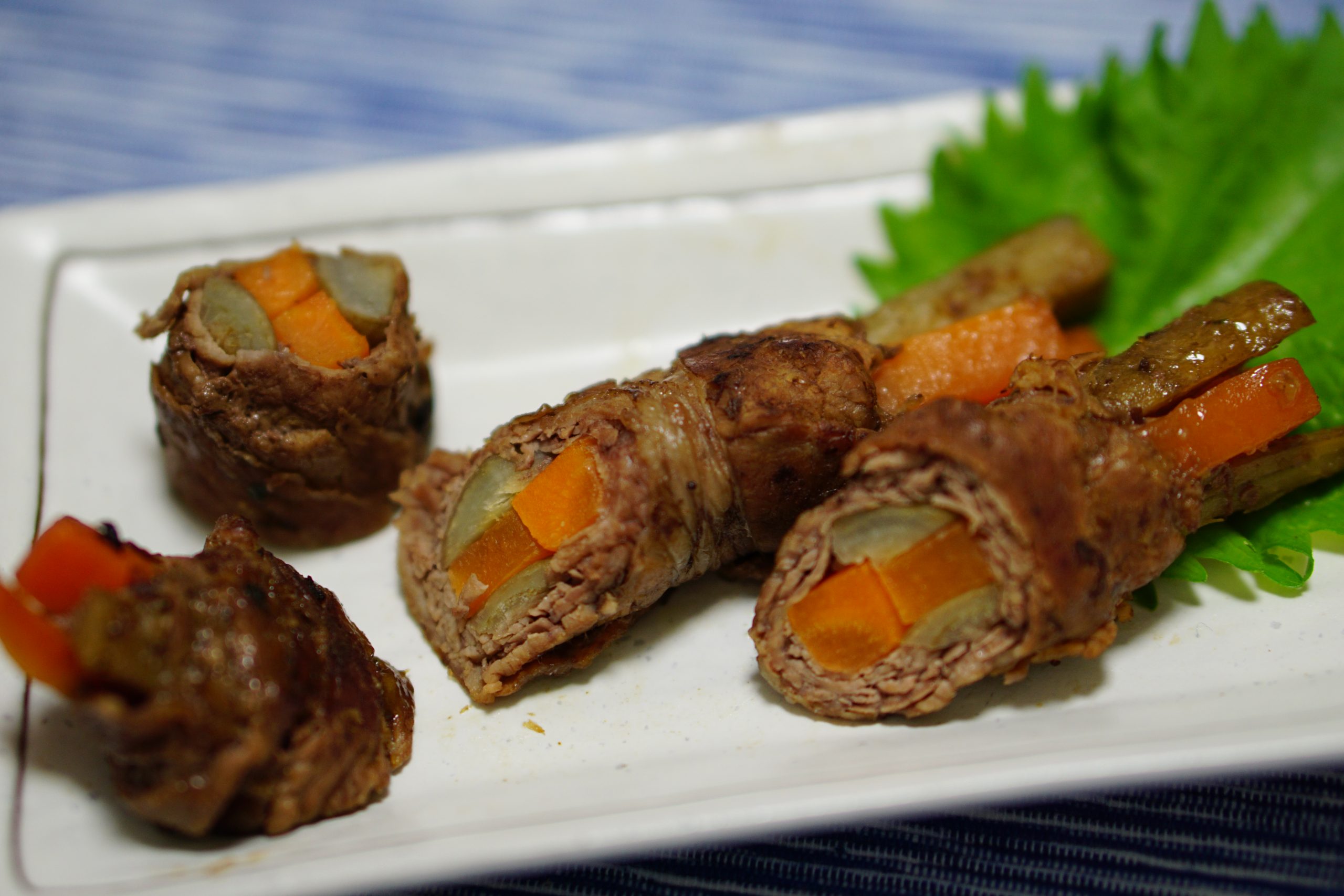 Gobo no Nikumaki
Ingredients
200

g

beef

thinly sliced

150

g

burdock root

75

g

carrot

1

cup

dashi

(seasoning)

1½

tbsp

soy sauce

(seasoning)

1½

tbsp

mirin

(seasoning)

1

tbsp

sugar

(seasoning)
Instructions
「PREP」Scrape away the skin of the burdock root with the spine of a knife, and cut in half. Then cut lengthwise into thin sticks. Peel the carrot and cut lengthwise into thin sticks.

Fill a pot with water and add the burdock root, bringing to a boil. When it is just soft enough to be poked through with a wooden skewer, add the carrot and gently boil for a couple of minutes. Drain.

Lay the slices of beef on a clean board. Put a few sticks of carrot and burdock root on one slice of beef and wrap it around the vegetables. Continue until you've used up all the ingredients.

Heat up a frying pan and add some cooking oil. Then place the beef rolls in the pan in one layer and cook over medium heat, turning each piece to ensure that they're evenly cooked, until they start changing colour. Add the seasoning ingredients and continue to cook until the sauce is almost gone. Remove from heat and cut into bite-sized pieces.
Did you make this recipe?
Please let us know how it turned out for you! Leave a comment below and tag @oishiwashokurecipes on Instagram and hashtag it #oishiwashokurecipes.