Agebitashi means fried (ageh) and soaked (hitashi). This is a Japanese cooking technique in which vegetables are deep-fried and then soaked in a flavourful broth. Frying evaporates surface moisture, protecting the vegetables from absorbing oil except for in the surface crust. Soaking the veggies after frying them allows the broth to permeate more easily.
Two things are key with this recipe, and the first applies to deep frying in general: the temperature of the oil. For agebitashi, the oil should reach a temperature of 180ºC / 356ºF. Any less than that and the oil will not be hot enough to evaporate surface moisture, resulting in oily veggies.
Trick number 2: the key to a melty soft eggplant is to score it about halfway through so it can absorb as much of the flavourful broth as possible!
This recipe is delicious both hot and cold. For variety, you can replace the eggplant with kabocha, green peppers, or even snap peas.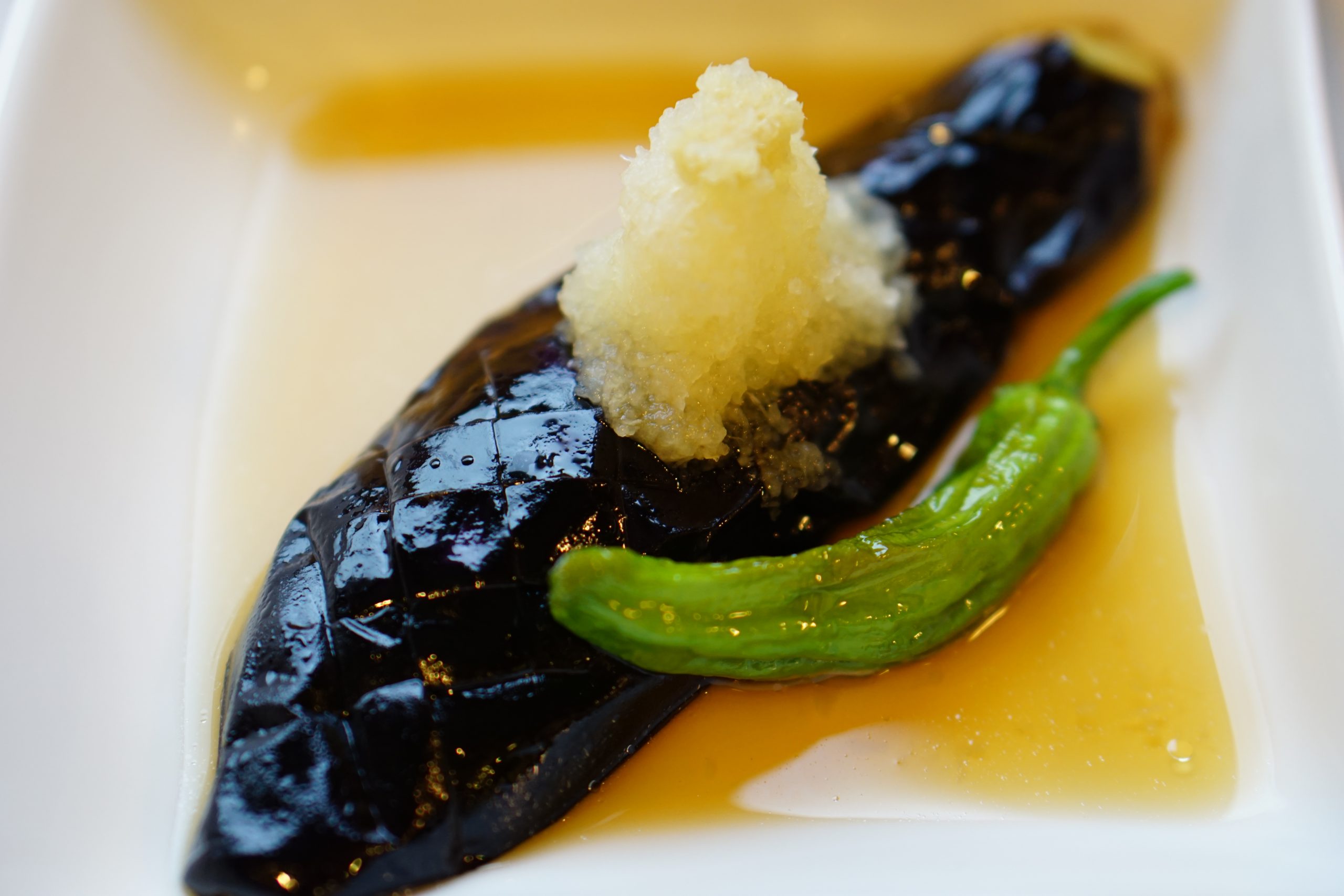 Eggplant Agebitashi
Ingredients
2

Japanese eggplant

or Chinese eggplant

2

shishito pepper

optional

grated daikon

to taste

grated ginger

to taste

1¼

cups

dashi

½

tsp

sugar

1½

tbsp

mirin

2

tbsp

soy sauce
Instructions
「PREP」Cut the eggplants in half lengthwise and score in a cross-hatch pattern on the skin side, to just about halfway through. If using, score the shishito pepper in one line lengthwise.

Heat 1-2 inches of oil in a heavy-bottomed pot or deep frying pan, to about 360 ºF (180ºC). Add the eggplant (and shishito) and deep fry about 3 minutes, turning once. Then place on a plate lined with paper towels to drain.

Combine the broth ingredients in a saucepan and heat over low until warm. Add the eggplant (and shishito) and let it soak up the flavour for a couple of minutes, turning once. Remove from heat – don't let it boil!

Place the eggplant (and shishito) on a dish, top with some grated daikon and ginger, drizzle with a little more broth and serve!
Did you make this recipe?
Please let us know how it turned out for you! Leave a comment below and tag @oishiwashokurecipes on Instagram and hashtag it #oishiwashokurecipes.