What is shiratama dango?
Shiratama dango is a kind of wagashi, or traditional Japanese sweet. It's a dumpling made of glutinous rice flour (shiratamako). The word dango refers to any kind of round dumpling, whether sweet or savoury. We even use it to describe things that have a dango shape, such as hair tied in a round bun! Although grain-based dango was already a part of Japanese cuisine, shiratama dango didn't appear til the Sengoku period (1467-1615). During this era of turmoil and near-constant war, citizens would keep bales of rice in the river to hide them from invading enemies. Once wet, the rice couldn't keep normally without going bad, so people tried grounding and drying it. They used the resulting powder (shiratamako) as a kind of flour, which they could mix with water and then cook. 
The key ingredient: Shiratamako
This isn't common practice, but you can actually grind your own shiratamako at home – check out this video if you're curious! Just make sure you start off with glutinous rice, which is stickier than non-glutinous japonica rice. And if you're gluten-intolerant, don't worry! The word glutinous doesn't refer to gluten, but to the gluey texture of this very sticky rice. It's actually gluten-free! 
Shiratamako can be hard to find outside of Japan, and is typically on the pricey side. Mochiko is a cheaper glutinous rice flour that tends to be easier to find outside of Japan. However, mochiko is processed differently from shiratamako (see how in this video), and therefore yields a different, less springy texture. If you can get your hands on some shiratamako, give it a try – or compare the two for yourself!
A dessert for any time of year!
Shiratama dango is fairly neutral in taste, which may keep it in the supporting role for some dishes. However, I think the unique texture of shiratama dango makes it the hidden star of any dessert. You can serve it with kinako (soybean powder), anko (red bean paste), ice cream, kanten jelly, fruits… Basically, with any sweet ingredient your heart desires! In the recipe below we used banana, kiwi and strawberry along with vanilla ice cream and matcha kanten jelly. We served it with kuromitsu, which you can substitute with the sweet syrup of your choice (e.g. maple syrup or honey), or even condensed milk. Although it's typically eaten as a summer dessert, I believe you can (and should) enjoy shiratama dango all year long!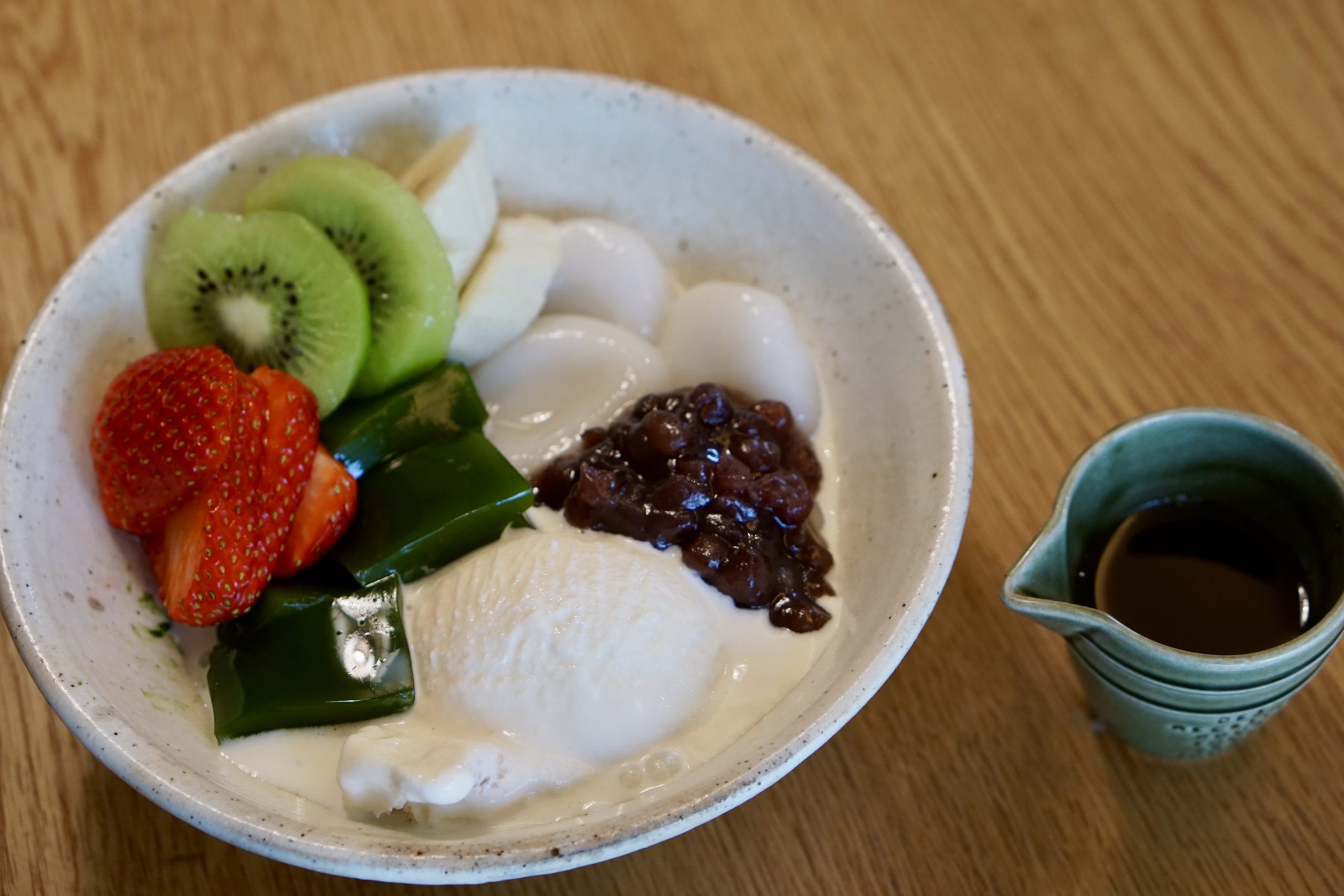 Shiratama dango with red bean and fruits
Ingredients
Dango ingredients
75

g

shiratamako

60

mL

water

¼

tsp

sugar
Toppings
2

tbsp

red bean paste

2

scoops

ice cream

vanilla, matcha or other

fresh fruit

to taste

kuromitsu

or maple syrup, honey, or other – to taste

matcha jelly

optional
Instructions
Mix the dango ingredients by hand in a large bowl, adding the water gradually. Roll into a log, cut or tear off a small amount, and hand-shape into a ball. Continue until all the dough is used (should make about 12 balls). The balls should be as soft as your earlobe, so add water if the consistency is too thick.

Bring a pot of water to the boil and prepare a bowl of ice water. Make an indentation in the centre of each ball – this is to help them cook quickly and evenly! Boil the shiratama dango for about 2 minutes. When the balls start to float, scoop them out and put them to soak in the bowl of ice water.

While the shiratama dango are cooling, cut your fresh fruit into bite-sized pieces. Then put the shiratama dango and all the toppings into two serving bowls and drizzle with kuromitsu or the sweet syrup of your choice. Enjoy your well-deserved homemade snack!