Tsutsumi-yaki means cooked package. It is most likely based on houshou-yaki, a traditional cooking method in which the main ingredients were wrapped in high-quality washi paper. It would be quite rare to find culinary-grade washi paper in the typical home cook's kitchen these days however! We wrapped the ingredients in foil and cooked them on the stovetop in a pan half-filled with water, though you could also use the oven.
The tsutsumi-yaki cooking method allows the contents of the package to be steamed, while retaining all of the cooking juices for full flavour and nutrition. And though you can remove the cooked ingredients and drizzle with the cooking juices to serve, we think it's more fun to present a silver ship to unwrap, and discover the treasures within!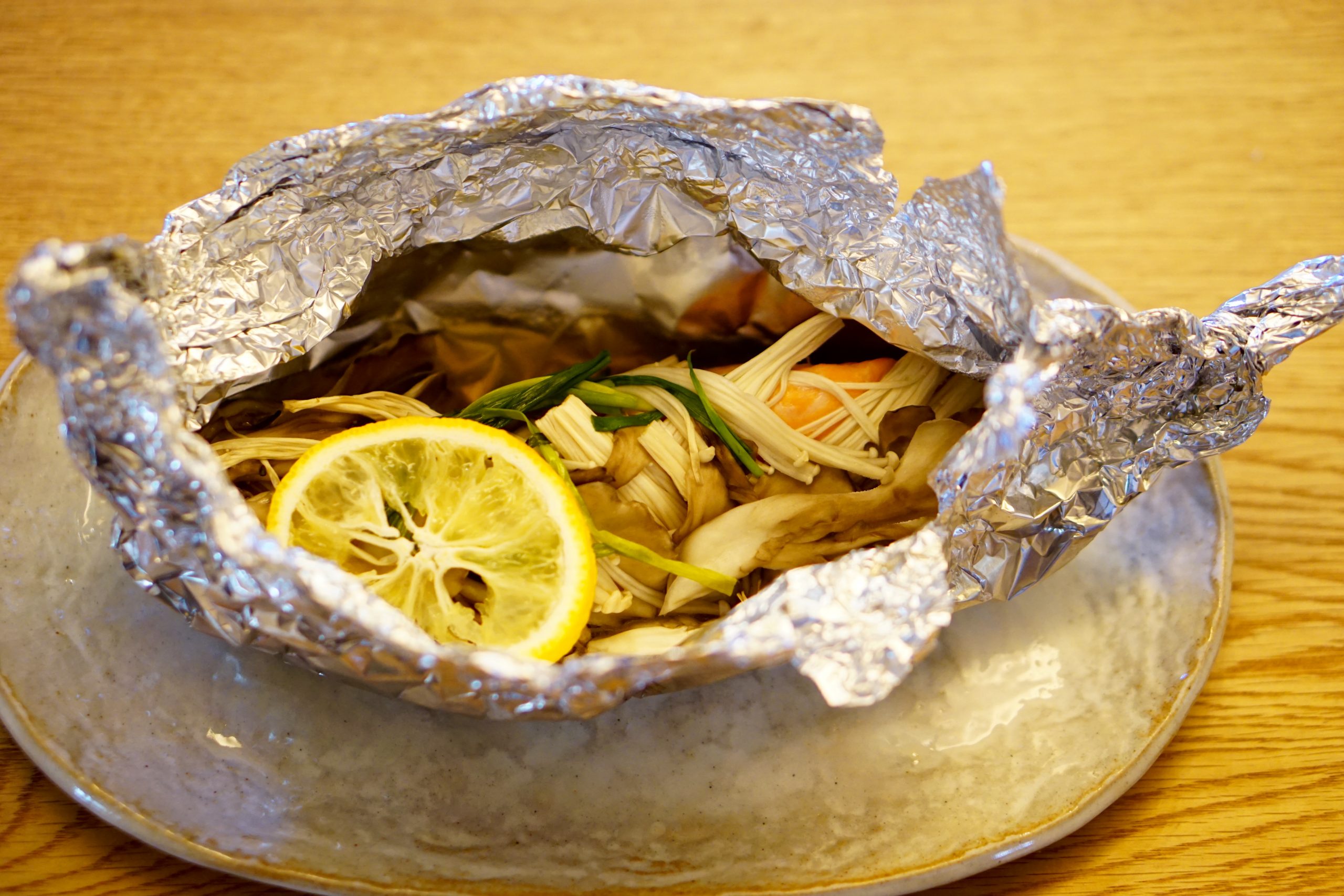 Tsutsumi-yaki Salmon
Ingredients
2

salmon filets

100

g

mushrooms

any kind is ok – we used enoki and maitake

10

stalks

green onions

2

slices

lemon

or yuzu or sudashi (to garnish)

½

tsp

salt

2

tsp

sake

2

tsp

butter

soy sauce

or ponzu to taste
Instructions
Wash the mushrooms and cut off the inedible part of the stems if needed (depending on the type of mushroom).Wash the scallions and cut in half.Sprinkle the salt and pour the sake over the salmon filets.Prepare two large pieces of aluminium foil.

Set one salmon filet on a piece of foil, in the center. Top with half the mushrooms and green onions and one teaspoonful of butter.Wrap the foil by folding the long sides together, then folding down to tightly seal the top of the package. Fold and press the ends of the package together and curl upwards so the package can fit in your pan – it might just end up looking like an old viking ship.Repeat with the second filet.

Place the foil packages in a deep, wide pan, and add enough water to reach halfway up the packages. Cover and heat over high for about 5 minutes, reduce the heat to medium and continue cooking for another 5-10 minutes. You can carefully peel open the top of the package to check if the fish has cooked.

Remove the packages from the pan and place on plates. Serve as they are, in the closed packages, and allow your lucky eaters the joy of unwrapping and discovery. Serve with soy sauce or ponzu, and lemon, yuzu or sudachi slices to garnish.