Ponzu is a citrus-based sauce made by mixing vinegar and lemon, lime, or other Japanese citrus fruits such as daidai, yuzu, or sudachi. Ponzu shoyu contains both ponzu and soy sauce. Although there's a difference between the two, we usually say ponzu to refer to ponzu shoyu because we use the latter much more than the former!
In addition to enhancing a dish's flavour, ponzu also acts as a preserving agent. Its name comes from combining the Dutch word pons, meaning punch (the beverage), and the Japanese word su, meaning vinegar. Ponzu adds a "punch" of flavour to a variety of dishes. These days you can even find it in the form of jelly, as a popular condiment in trendy Japanese restaurants. It's also great addition to salad dressing!
In the dish below, the tart flavour of ponzu enhances that of the tomato, and adds a little something to the yummy crispy chicken. This is a great weeknight recipe that can be ready in a jiffy!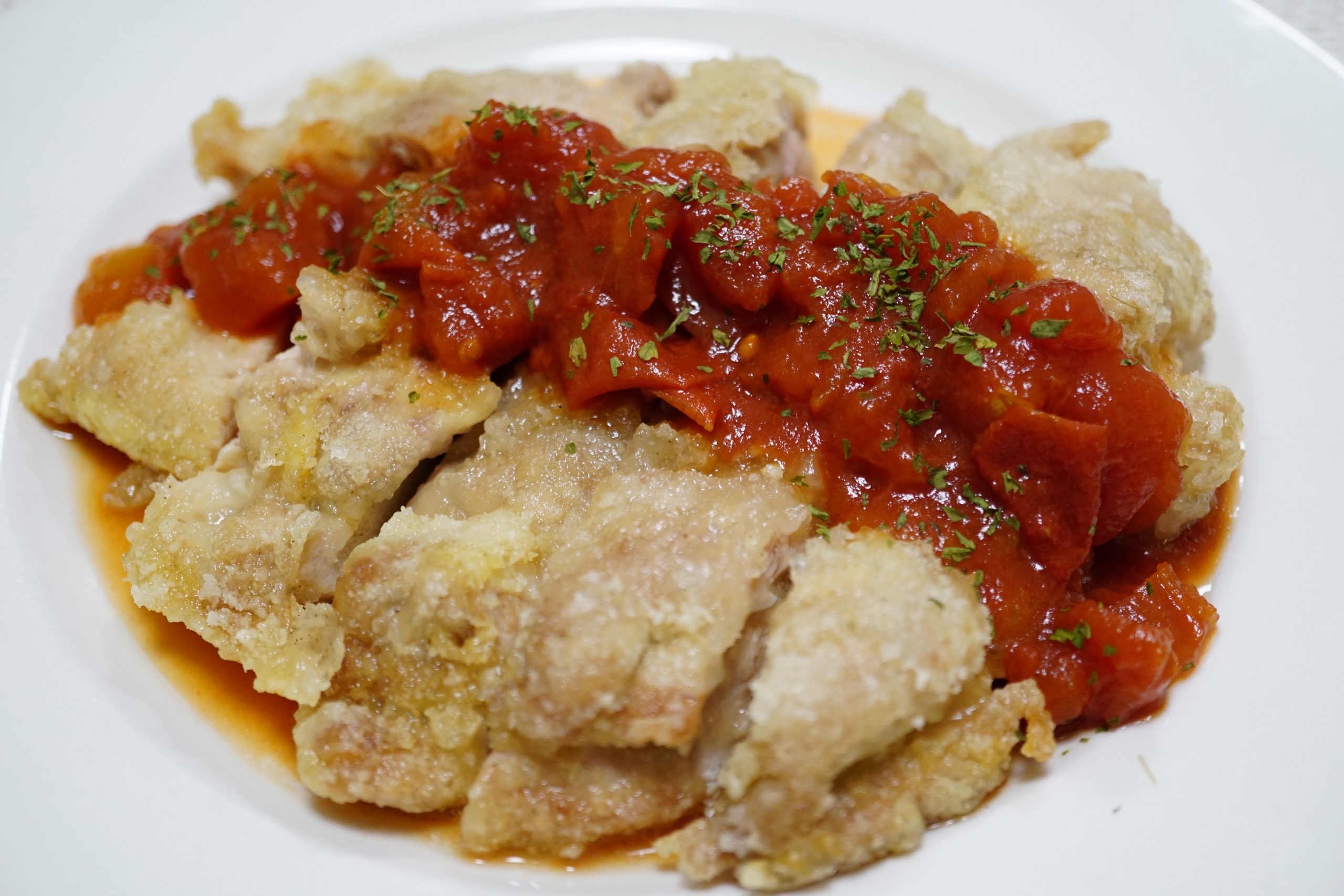 Crispy Chicken with Tomato Ponzu
Ingredients
200

g

chicken thigh

1

large

tomato

parsley

to taste (optional)

1

tbsp

vegetable oil

2

tbsp

ponzu shoyu

katakuriko (potato starch)

to coat

salt

to taste (A)

pepper

to taste (A)

1

tsp

garlic

(A)
Instructions
「PREP」Poke a few holes into the chicken skin. Dice the tomato. Grate the garlic.

Mix the tomato and ponzu shoyu together in a bowl.

Rub A into the chicken and sprinkle with katakuriko.

Heat up a frying pan and pour in about 1 cm of vegetable oil. Put the chicken in the pan, skin-side down, cover with a lid and cook over low heat for 4 minutes. Flip over the chicken, cover again and cook for another 3 minutes. Put onto a plate and spoon on the tomato ponzu sauce. Add parsley to taste.
Did you make this recipe?
Please let us know how it turned out for you! Leave a comment below and tag @oishiwashokurecipes on Instagram and hashtag it #oishiwashokurecipes.