Chawan is the word for teacup, and mushi means steamed, so this is a Japanese recipe for steamed teacups!
It's an egg-based, custardy type of dish with toppings hidden inside. A typical chawan is a ceramic, handleless cup with a 120 mL capacity. If you're using something bigger you may have to adjust the quantities and cooking time. Otherwise, any type of heat-resistant cup, mug or ramekin is fine.
One of the ingredients included below is kamaboko, a type of fish cake often used in noodles and soups. You can replace or add to the ingredients below with gingko nuts, shrimp, shiitake mushrooms and mitsuba leaves to name a few.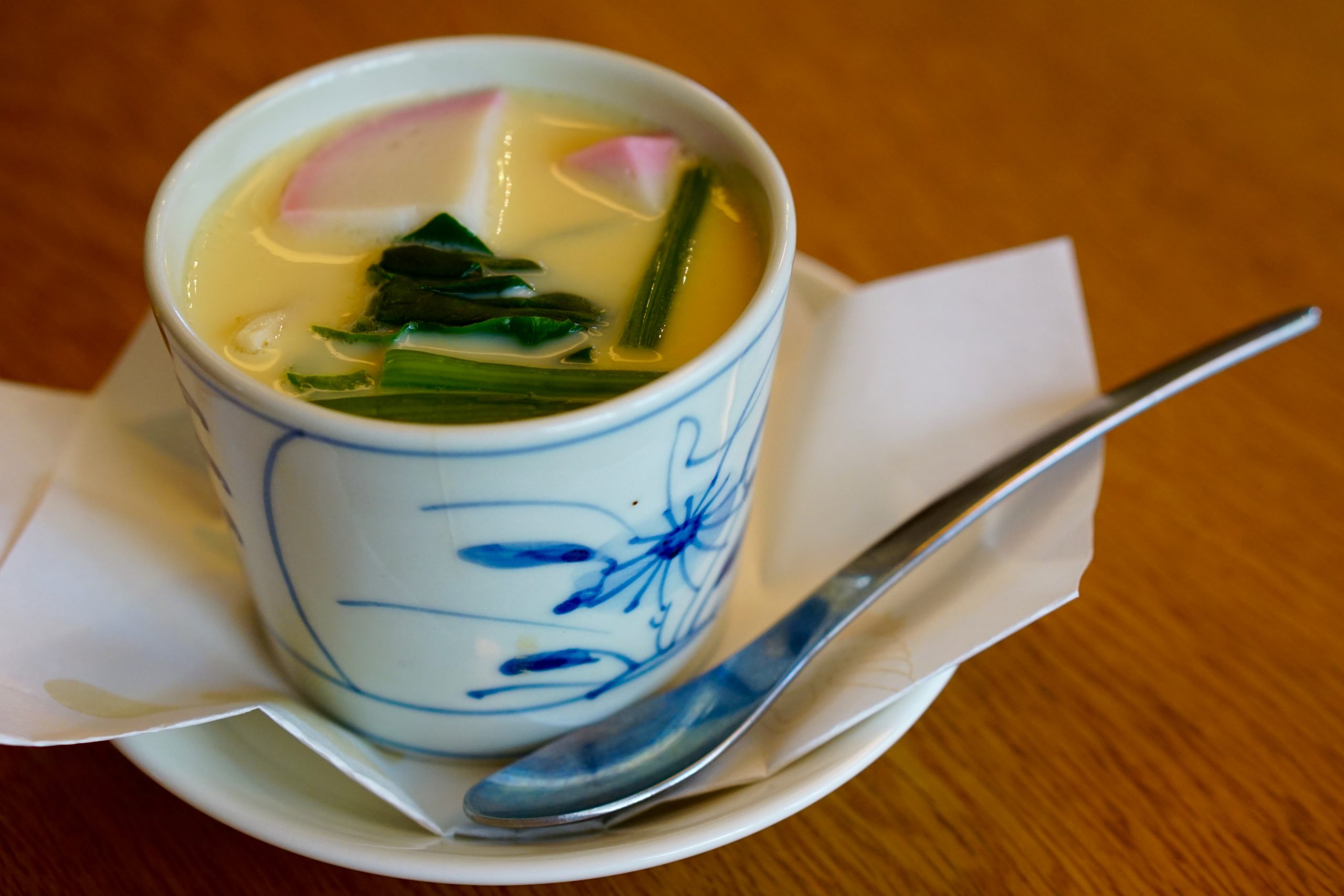 Chawan-mushi
Ingredients
70

g

chicken

8

pieces

shimeji mushrooms

4

slices

kamaboko

fish cake

40

g

spinach

4

slices

bamboo shoots

pre-boiled

yuzu

or lime zest to taste

2

eggs

300

mL

dashi

2½

tsp

soy sauce

the light-tasting kind if possible, but the regular strong-tasting kind is fine too
Instructions
Cut the chicken into bite-size pieces.Cut the kamaboko slices in half.Boil the spinach for 1 minute, drain and squeeze out the excess water, then cut into 3 cm long pieces.

Beat the eggs lightly, trying to avoid making bubbles. Combine with the dashi broth and soy sauce, then strain through a fine-mesh sieve or cheesecloth.

Put the chicken, mushrooms, bamboo shoots, spinach and kamaboko into each of the 4 cups, distributing equally. Then add an equal amount of the egg mixture to each of the cups.

Fill a pot about 3 cm deep with water and bring to the boil. Place a cloth in the pot and put the 4 cups on top (the cloth is to protect the cups). Cover with a kitchen towel-wrapped lid and cook for at least 15 minutes over low heat, or until clear broth comes up to the top of the cups. Set aside for 10 minutes, then serve.