It's getting cold out and the memories of summer are long gone… There couldn't be a better time to find something to celebrate, so I propose winter squash! There are a plethora of winter squash types, and they can do anything from fill a pie, blend into a soup or substitute pasta! Kabocha (kabocha squash or Japanese pumpkin) is really delicious simmered, mashed, roasted, tempura-fried… mmmm…
But let's not forget the treasure we find at the core of our winter squash – the seeds! Squash seeds are packed with nutrients such as zinc, protein, and vitamin E, and make for a deliciously healthy snack. Just scoop them out of your squash, remove the fleshy fibres, pat them dry and throw them on a baking sheet. This recipe works well with kabocha, acorn, butternut and pumpkin seeds, but you may need to experiment a bit with the roasting temperature, as some seeds will be thicker than others. It seems that the ideal roasting time for squash seeds is no longer than 20 minutes. You can roast them as is, or add whatever oil and seasonings you like – we used soy sauce, salt and shichimi togarashi below, but feel free to play around with your favourite tastes.
These seeds make a great otsumami (snack, often served when consuming alcohol), but if you can resist the temptation to gobble them up immediately, use them as a topping for salads and soups, or even for the dish you made with the rest of the squash – we made simmered kabocha!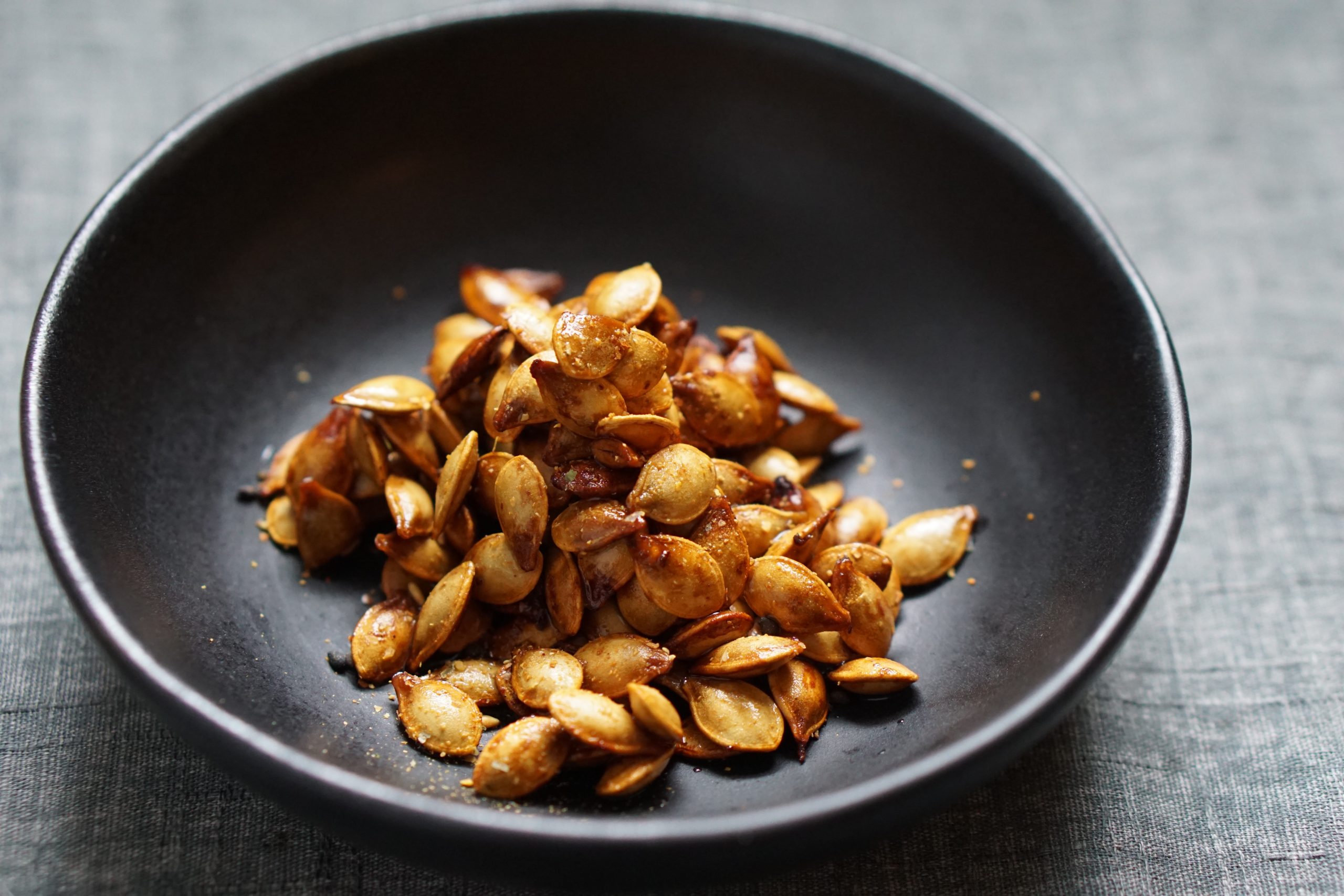 Crispy Kabocha Seeds
Ingredients
seeds of 1 kabocha squash

2

tbsp

olive oil

½

tsp

soy sauce

¼

tsp

salt

shichimi togarashi

to taste (optional)
Instructions
Preheat oven to 300F.Halve or quarter washed kabocha and scoop out seeds and fibres.

Wash seeds to remove as much flesh and fibres as possible. Pat seeds dry on paper towel.

Lay seeds on baking sheet, drizzle with olive oil and soy sauce, and sprinkle with salt. Move the seeds around with your hands, ensuring an even coating of all seasoning ingredients.

Bake for 15-20 minutes, or until seeds are golden brown. Allow to cool and top with shichimi togarashi before serving, or store in an airtight container for a few days.