Tofu steak is a simplified version of agedashi tofu, a traditional Japanese recipe with deep-fried tofu served in a dashi-based broth.
The first big difference is that in this version the tofu is pan-fried, using less oil. The second is the seasoning. For agedashi tofu you would pour a large amount of mild dashi-based sauce over it. Instead, our tofu steak is drizzled with a little bit of strong dashi shoyu sauce (substitute with regular soy sauce in a pinch). Both recipes are lovely and relatively quick, but tofu steak has a simpler clean-up because of the much smaller amount of oil used. That makes it great for an easy weeknight dinner!
It's essential to use potato starch (katakuriko in Japanese) to get a perfectly light and crispy texture. If you have to substitute it with something, opt for corn starch rather than flour. Another key to optimal crispiness is to make sure to sufficiently drain the tofu of moisture and pat it dry. Otherwise the coating will turn gooey and won't provide this dish's signature contrast in texture.
Tofu steak marries both neutral and sharp tastes, and soft and crispy textures. This recipe is all about balanced contrast, and the result is divine, melt-in-your-mouth bliss!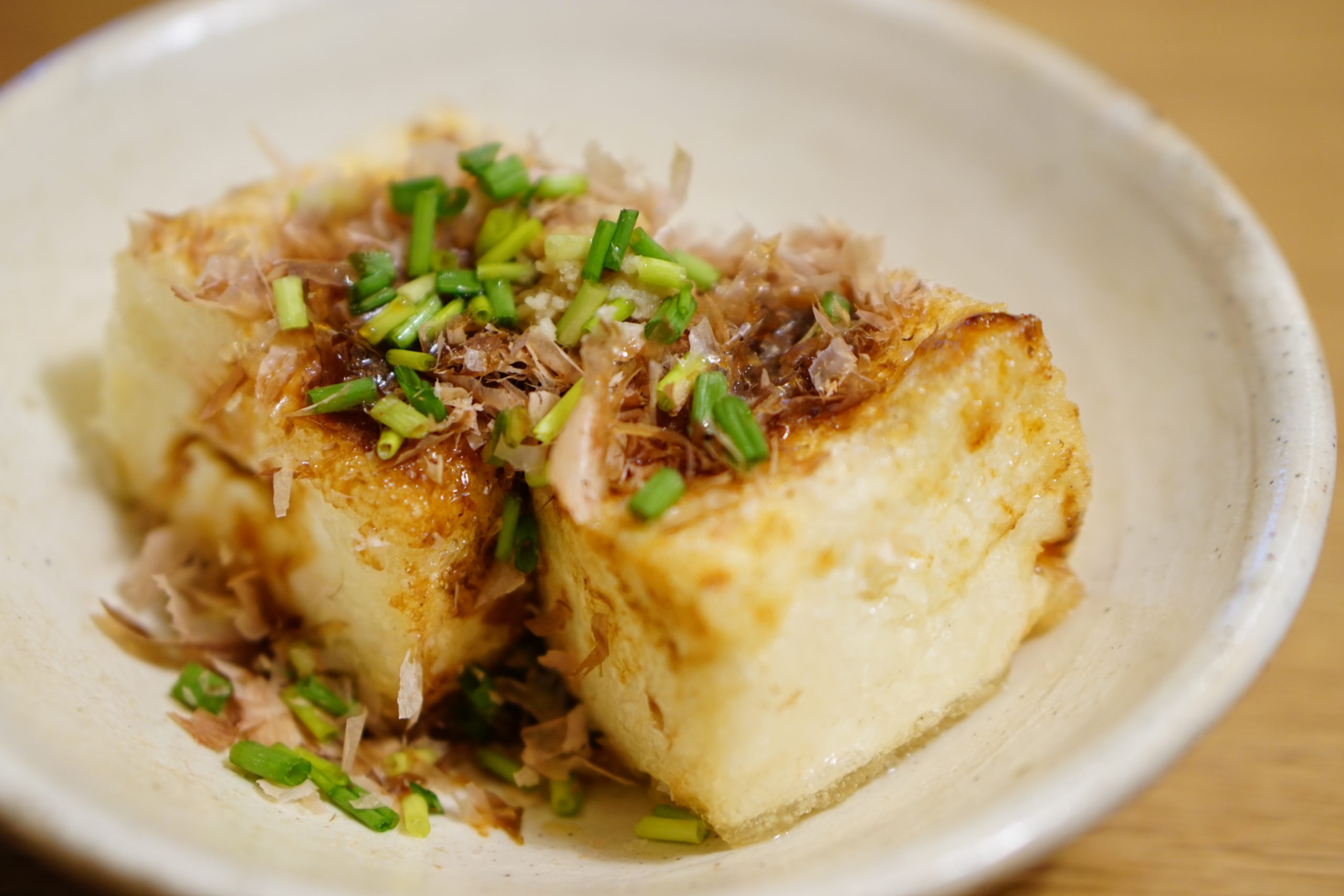 Tofu Steak
Ingredients
600

g

silken tofu

(1 block)

3

tbsp

vegetable oil

2

tbsp

dashi shoyu

1

pinch

salt

1

pinch

pepper

4

tbsp

potato starch

for coating

10

g

ginger

to garnish

1

stalk

green onion

to garnish

katsuobushi

to taste (to garnish)
Instructions
「PREP」Wrap the tofu in a paper towel and set aside for 30 minutes to drain. While the tofu is draining, make the dashi shoyu and leave to cool. Peel and grate the ginger. Chop the green onion finely.

Cut the tofu into 4 pieces and pat dry with a paper towel. Sprinkle with salt and pepper. Lightly coat the tofu pieces with potato starch.

Heat a frying pan to medium-high and add the oil. Fry the tofu, flipping to make sure each face is cooked til crispy, about one minute per cube face or 6 minutes in total.

Put two tofu cubes on a plate and top with the katsuobushi, spring onion and a small amount of grated ginger. Drizzle 1-2 teaspoons of dashi shoyu over each serving. Enjoy!
Did you make this recipe?
Please let us know how it turned out for you! Leave a comment below and tag @oishiwashokurecipes on Instagram and hashtag it #oishiwashokurecipes.