Many people living outside of Japan associate the word sushi to raw fish. That's not entirely off the mark, as raw fish is a common sushi topping. It also played a big role in the origins of sushi. But we use the word sashimi to refer to raw fish or meat. So actually, without the rice, you have no sushi.
Sushi refers to sushi-meshi, or specially prepared vinegared rice. It is served with a variety of toppings (raw fish being one of them). What's more, the texture and flavour of the rice are just as important as those of the toppings when it comes to a sushi dish's quality. There it is again, the fundamental role of rice in Japanese cooking!
There are different types of sushi, defined by their method of preparation. Chirashi means scattered, referring to its scattering of toppings. Nigiri means to grip or hold, and refers to sushi that is shaped by hand. Temari and temaki are also made by hand (te). The former is shaped into balls, and the latter is rolled into a cone shape. And the most well-known sushi dish outside of Japan would be maki, which simply means to roll.
A world of delicious sushi awaits… So get your toppings ready and let's make some oishii sushi rice!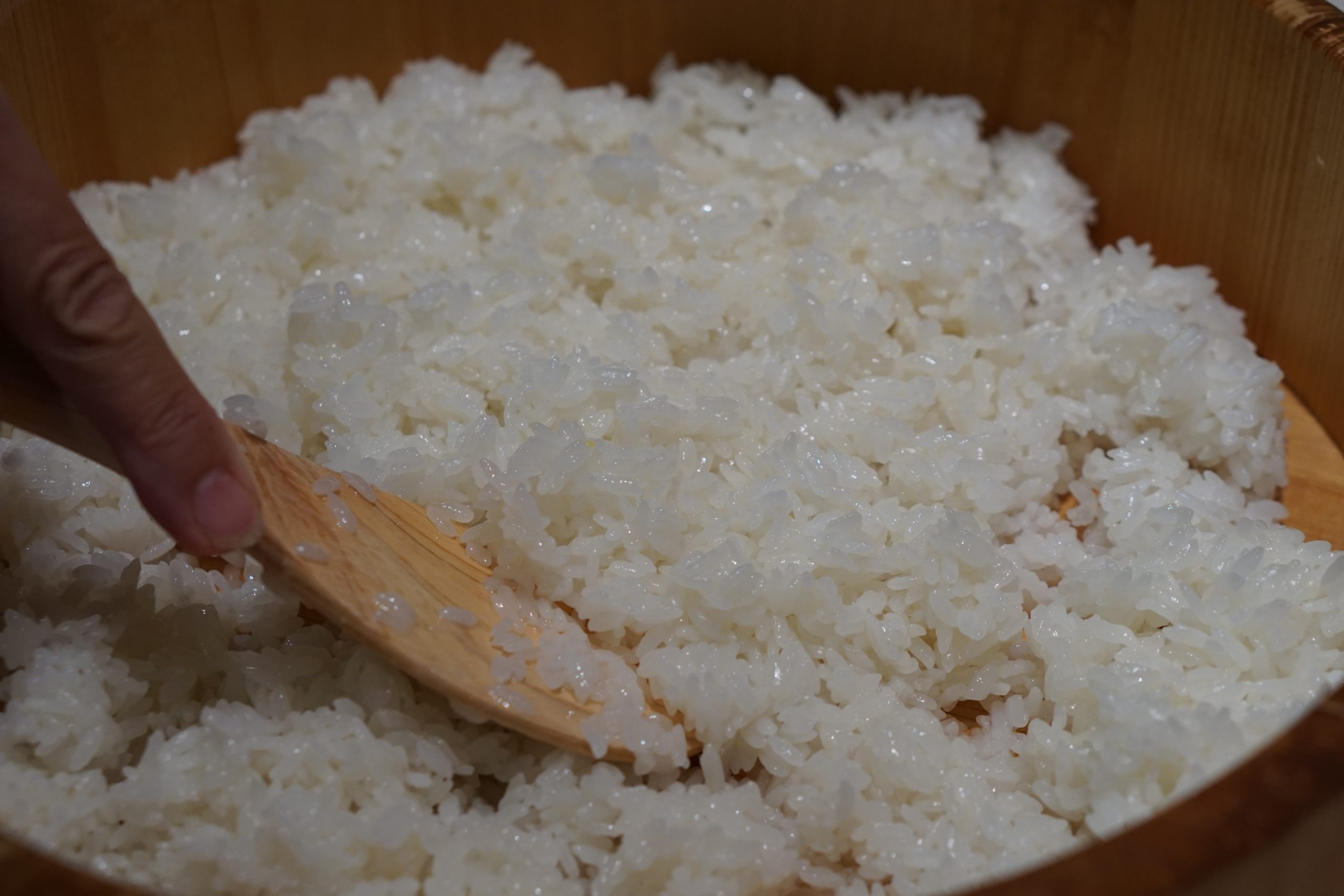 How to make sushi rice
Ingredients
375

mL

Japonica rice

(1.5 metric cups)

400

mL

water

(1.6 metric cups)

5

cm

kombu

square

50

mL

rice vinegar

1

tbsp

sugar

½

tsp

salt
Instructions
Put the rice vinegar in a saucepan over medium heat. When it's warm, add the sugar and salt. Bring to a boil, then allow to cool.

Remove and discard the kombu, and put the cooked rice into a large bowl or tub – a hangiri made of cypress is best to absorb unwanted moisture, but any large bowl will do. The rice should still be warm!

Pour the sushi dressing over the rice and carefully mix with a wooden (or plastic) rice paddle, while cooling it with a fan in your other hand. Mixing the rice gently ensures that the grains aren't squashed together, and fanning it helps the vinegar mixture give each rice grain a glossy, not overly sticky coating.
Did you make this recipe?
Please let us know how it turned out for you! Leave a comment below and tag @oishiwashokurecipes on Instagram and hashtag it #oishiwashokurecipes.