Outside of Japan, when most people hear the word "sushi" they think of raw fish. However, fish is only one of any number of possible toppings for sushi, which actually refers to vinegared rice.
Chirashizushi means 'scattered' sushi, or sushi rice on which the toppings are scattered. Our recipe below contains no raw fish. However, raw fish is a popular chirashizushi topping in Kanto (Eastern Japan). In Kansai (Western Japan) this dish is called barazushi (also meaning scattered sushi) or gomokuzushi (five-ingredient sushi – though it doesn't have to be exactly five!). Another version is mazezushi – exactly the same dish in fact, except that you mix the toppings in with the rice instead of scattering them on the top. But no need to be too technical – our version is both mixed and scattered!
Another thing that makes this dish special is how you eat it. Japanese dishes are usually served individually, but chirashizushi is one of the few exceptions. Everyone serves themselves from a communal dish in the center of the table. This is one of the reasons chirashizushi makes for such a great party meal. That and the delish factor!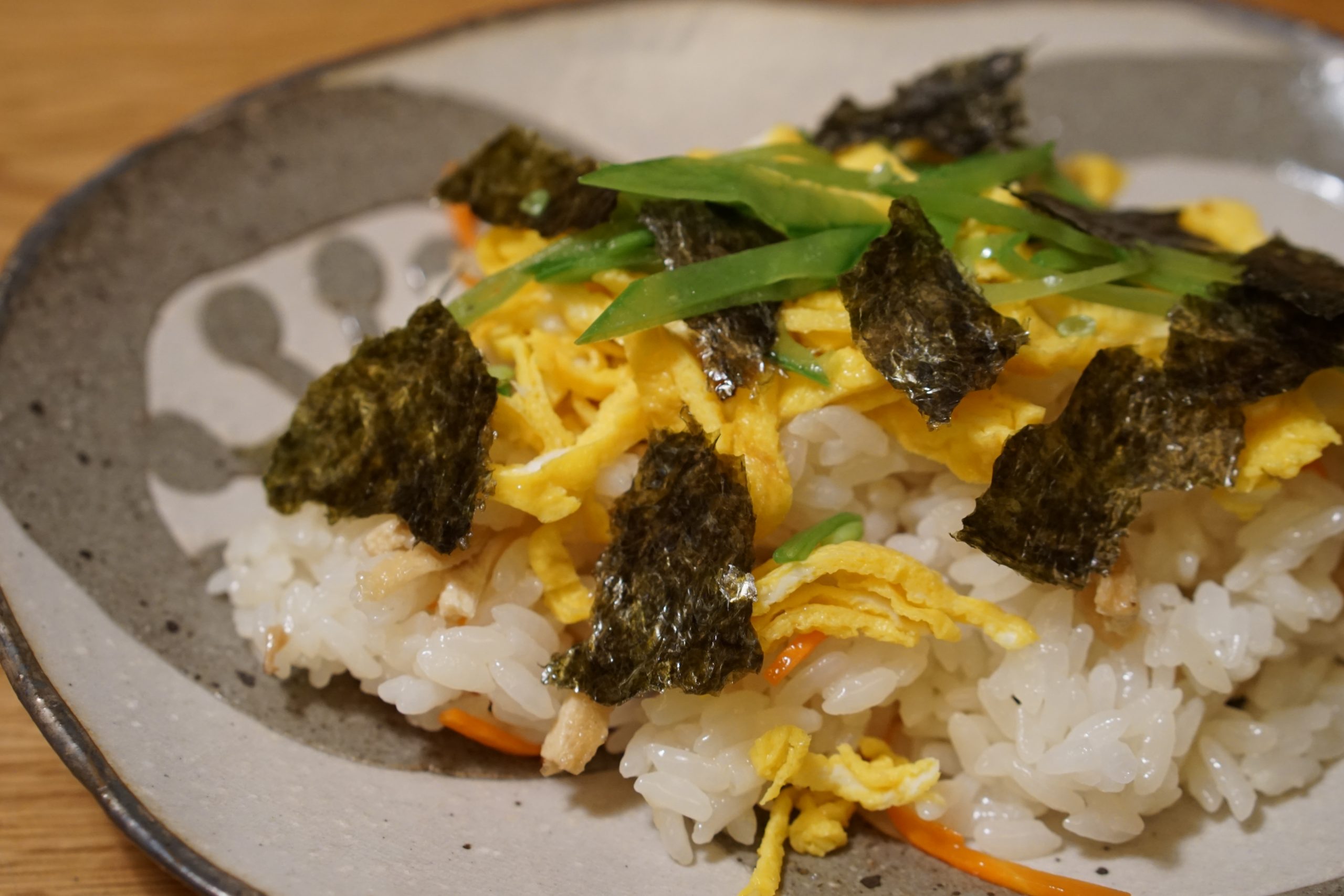 Chirashizushi
Ingredients
sushi rice

prepared according to recipe

kinshi tamago

prepared according to recipe

70

g

carrot

4

dried shiitake mushroom

½

piece

fried tofu

3

cm

lotus root

20

snow peas

1

tbsp

soy sauce

seasoning

½

tbsp

sugar

seasoning

½

tbsp

mirin

seasoning

1

tbsp

sake

seasoning

100

mL

dashi

seasoning (can use dashi liquid from dried shiitake)

nori seaweed

to taste
Instructions
「PREP」Cut off the stems of the dried shiitake, as they're too tough and stringy to eat. Put the shiitake in a bowl of water to soak for about 30 minutes, then drain, reserving the liquid, and thinly slice.

Peel and finely julienne the carrot into 3-4 cm long pieces.

Pour hot water over the fried tofu to remove the excess oil, then finely julienne.

Peel the lotus root, slice and cut into eighths. Put into a bowl of vinegar water to soak for a few minutes. This prevents the lotus root from darkening and getting sticky.

Remove the string from the snow peas. Bring a small pot of water to the boil, add some salt and the snow peas. Boil for 1 minute, then drain and thinly julienne into diagonal slices.

Cut the nori into thin short strips.

Put the seasoning ingredients into a saucepan and bring to the boil. Then add the shiitake, carrot, tofu and lotus root, cover and simmer over low heat until the lotus root becomes translucent and the vegetables are cooked (about 5 minutes). Drain.

Add the vegetables to the prepared sushi rice and gently mix (the same way you mixed in the vinegar to make the sushi rice), taking care not to squash the rice grains together.

Put the sushi rice in a large dish and sprinkle with the kinshi tamago, snow peas and nori. Serve immediately, and enjoy!*
Notes
If you don't use all of it immediately, set aside and cover the extra rice with a damp cloth. Do not refrigerate, as this will dry it out!
Did you make this recipe?
Please let us know how it turned out for you! Leave a comment below and tag @oishiwashokurecipes on Instagram and hashtag it #oishiwashokurecipes.