Isobe means 'rocky shore', and in Japan a rocky shore is a place where seaweed abounds. The term 'isobe' has come to refer to dishes including seaweed; soy sauce coated mochi wrapped in nori seaweed is usually called isobeyaki (seaweed-cooked) or isobemaki (seaweed-wrapped), although other fillings can be used, such as scallops, taro root, and even cheese! Other isobe dishes include isobeage (seaweed-fried) and isobeae (seaweed-dressed).
And what is mochi? The best thing since white rice, is what! Mochi is made from glutinous rice pounded into a gooey glob, and is used in sweet and savoury dishes alike. Mochi is a big part of the Japanese New Year cuisine, so we made a series of three mochi recipes for you to try this season. Try our karami mochi and anko mochi too!
Below we used kiri mochi, or kaku mochi, which is cut (kiri) into rectangular (kaku) pieces, dried and packaged to last longer than fresh mochi. You can find kiri mochi in most Japanese or Korean grocery stores, and it's an easy alternative to making your own from scratch! Kiri mochi is dense and dry, so it needs to be either grilled or boiled before eating (we've boiled it in the recipe below). Also, please chew carefully!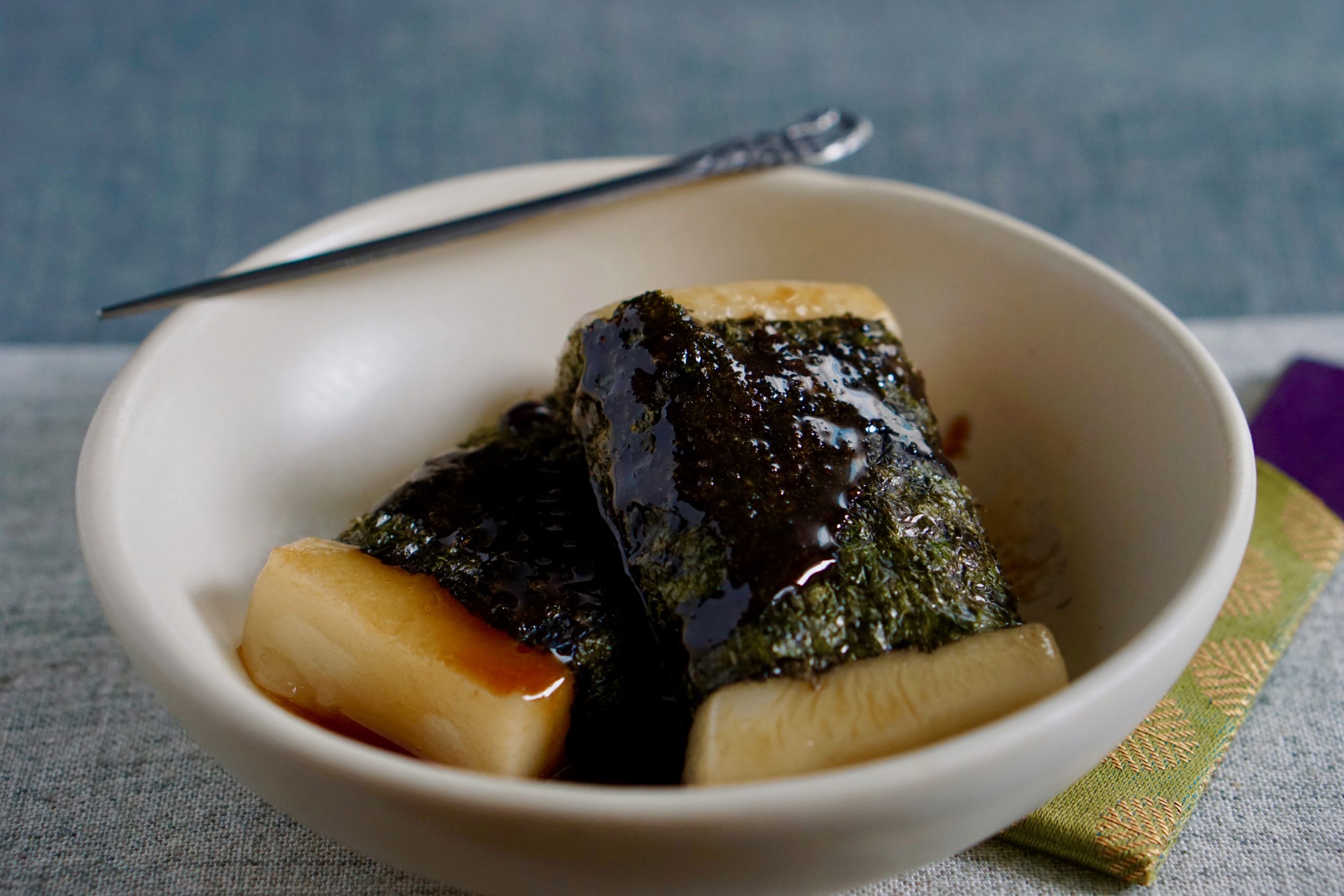 Isobe Mochi
Isobe mochi is a classic salty-sweet mochi snack to be enjoyed all year round. Just be sure to chew!
Ingredients
4

pieces

mochi

1

large sheet

nori

1

tbsp

soy sauce

1½

tbsp

sugar
Instructions
Cut the nori into four rectangular pieces long enough to wrap around a piece of mochi. We simply divided a large square mochi sheet into 4 lengthwise pieces.

Put the mochi into a pot and add enough water to cover it. Bring the water to a boil over high heat, then simmer on low for about 3 minutes. Remove the mochi from the pot and lightly wipe with kitchen paper.

Mix the soy sauce and sugar.

Dip each mochi piece into the sauce before wrapping with a piece of nori. Then eat up!