A fatty cut of pork is best for this recipe, such as butabara (pork belly). Most Japanese recipes using pork or beef call for the meat to be thinly sliced. It's a cut that is very common in Japanese grocery stores, but may not be as easy to find outside of Japan. Look for pork belly and ask for it to be sliced as thinly as possible. Or freeze and slice it yourself!
Like the French millefeuille, minus the sweet dessert aspect, this recipe's appeal lies in its alternating layers. In Japanese this cooking method is called kasane mushi, or 'layered and steamed'. The alternating napa cabbage and fat pork belly melt together, steaming in just a little bit of cooking juices. Although the end result looks like a nimono, or simmered dish, it's almost the other way round. Instead of absorbing a simmering sauce, the cabbage and pork are steamed in a little liquid and their flavour adds to it. Then we add some soy sauce after removing the cabbage and pork, and pour the sauce over the cooked dish right before serving.
Make sure not to cut off the end of the napa cabbage while preparing it. This ensures you an easy and hassle-free way to keep the pork and cabbage together!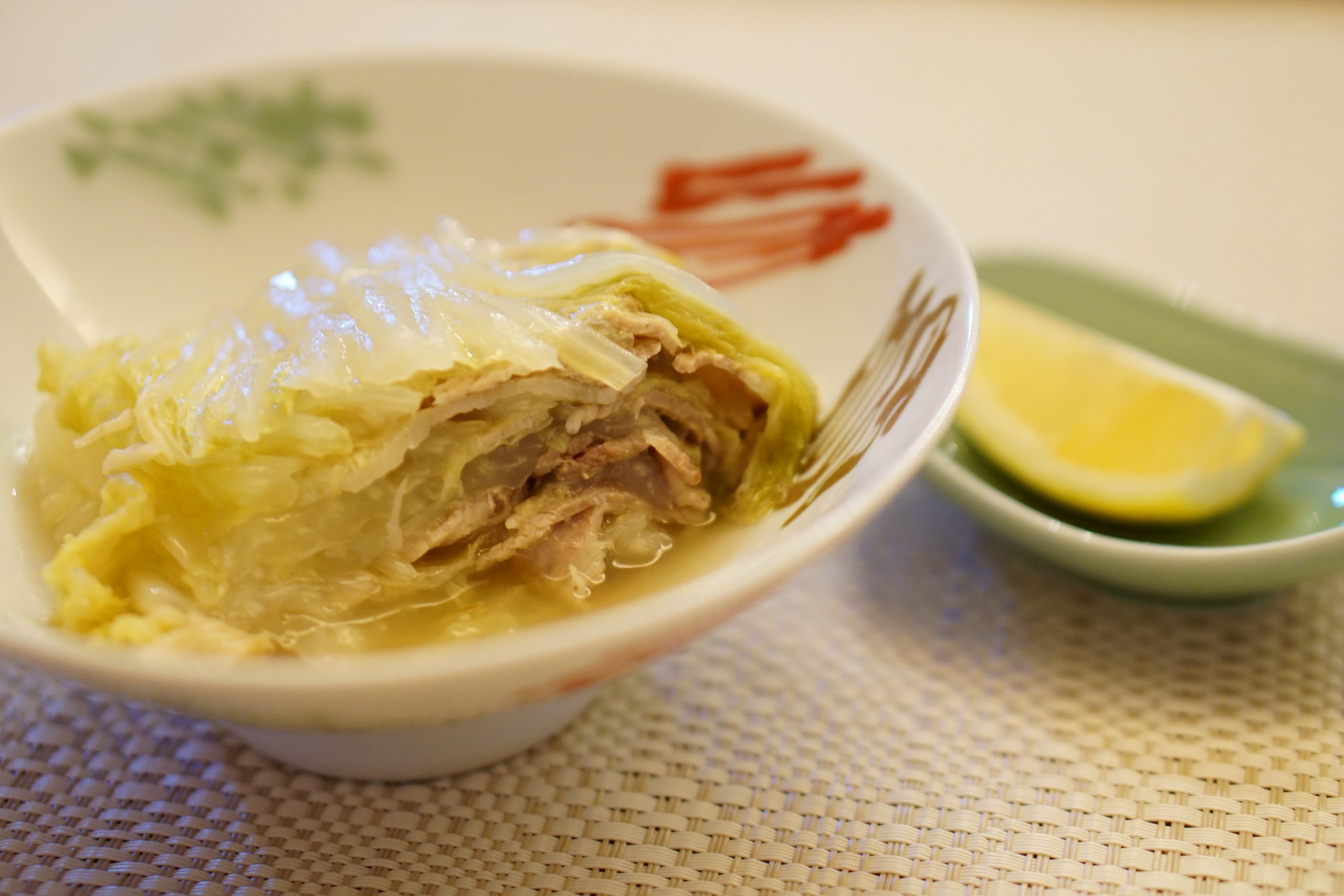 Layered Napa Cabbage and Pork
Ingredients
¼

napa cabbage

(about 800 grams)

200

g

thinly sliced butabara

(pork belly)

½

tsp

salt

1

can

canned scallops

(A) about 70 grams (and use soaking liquid too)

2

slices

ginger

(A)

¼

cup

sake

(A)

1

tsp

soy sauce

(B)

1

pinch

salt

(B)

black pepper

to taste

lemon

a squeeze, to taste
Instructions
Cut the napa cabbage lengthwise into quarters, keeping one quarter for the recipe and refrigerating the rest. Don't cut off the end of the cabbage, so the bottoms of the leaves stay attached. Cut the strips of pork into 4-5cm lengths and sprinkle with salt.

Place the slices of pork in between the leaves of the cabbage.

Put the whole cabbage-pork package into a pot and add (A). Cover and cook over medium heat for 30 minutes.

Remove the cabbage and pork from the pot in one piece, and cut into four portions and put on plates.

Add (B) to the cooking liquid and warm it up on the stove, then drizzle it over the cabbage and pork. Add some black pepper to taste and serve with a lemon wedge.
Did you make this recipe?
Please let us know how it turned out for you! Leave a comment below and tag @oishiwashokurecipes on Instagram and hashtag it #oishiwashokurecipes.