This is the story about how Japanese cooking made me fall in love with white fish, and how white fish made me fall in love with Japanese cooking. It takes place on an airplane, at the end of a long and arduous trip back to Japan, full of flight cancellations, long waits and impossible connections. The last leg of my rescheduled journey was on a Japanese airline.
The food I had been served on my *airline-which-will-not-be-named* flights up until that point was bland, overcooked and simply not delicious, but one doesn't usually expect much from airplane food anyway. I had been squeezed into the very last row on this final flight with the Japanese airline, and when the pretty cabin attendant rolled up the food trolley, she said something like "I'm sorry to inform you that we have no more of the Western-style meal, so we have to serve you the Japanese meal. Is that alright?" This wasn't an issue as I generally like Japanese food, and anything was bound to be better than what I'd had on my previous flights, but nothing had prepared me for the melt-in-your-mouth tenderness of this delicate simmered fish dish.
My experiences with white fish until that point had led me to believe that it was a wet, tasteless or overly fishy affair, and the only way to render it edible was to coat it in batter and deep-fry it. So when I took my first bite of the Japanese simmered fish, I almost shed a tear of relief, wonder and satisfaction. If Japanese cooking could make white fish, a food that I had basically avoided for the past decade, so fragrant and delicious, what more could it do?
The recipe below is for kinmedai, also known as Splendid Alfonsino, or golden eye snapper, and it is just as fancy as it sounds! I don't think the Japanese airline actually served me kinmedai as it's a little pricey, but this Japanese recipe works well with all types of white fish. Try replacing it with flounder, halibut or sea bream.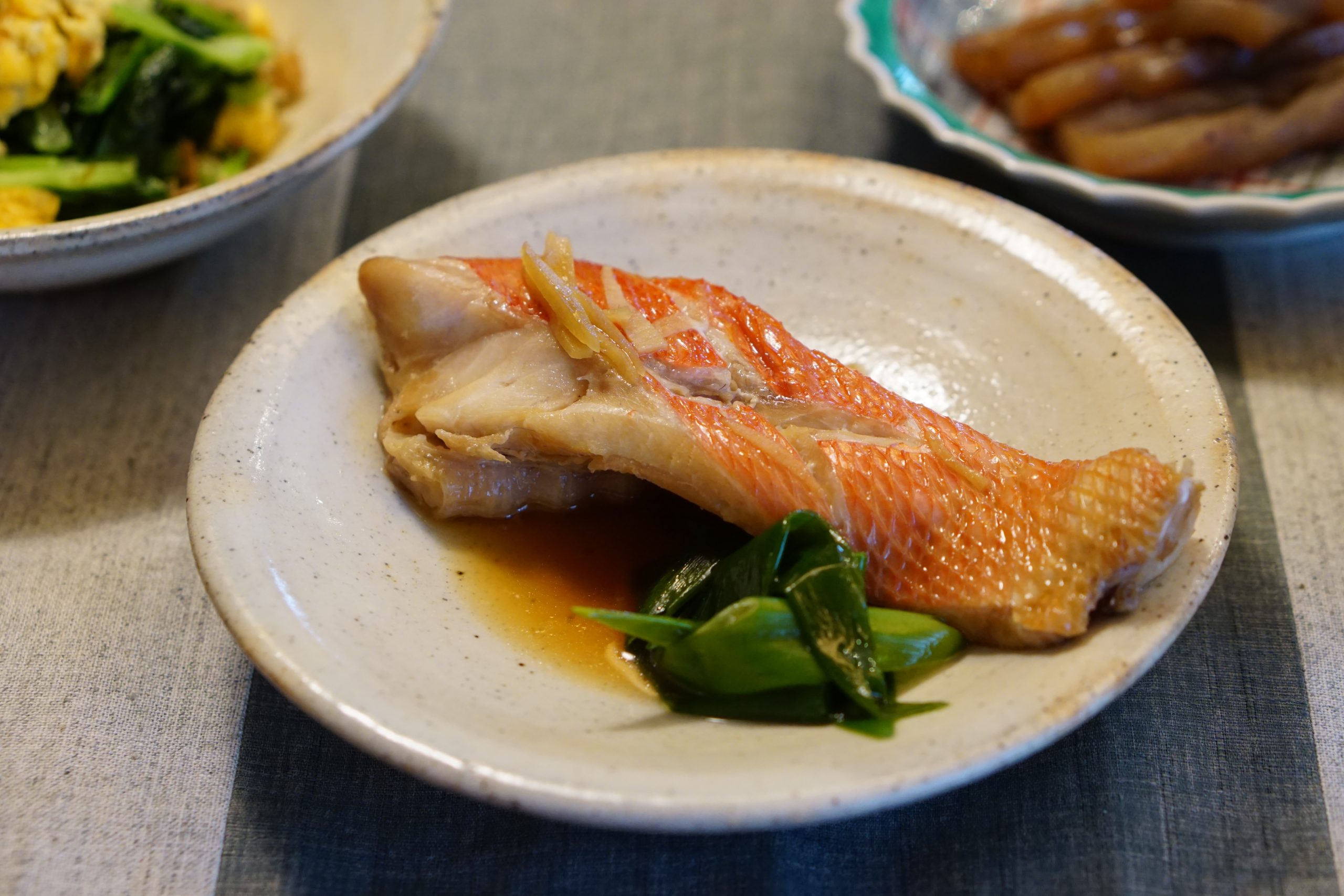 Simmered Kinmedai
Ingredients
2

kinmedai fillets

1

knob

ginger

green vegetables

your choice (we used naganegi)

70

mL

sake

200

mL

water

2

tbsp

mirin

1

tbsp

sugar

2

tbsp

soy sauce
Instructions
Cut an X into the skin of the fillets.Julienne the ginger.

Mix the simmering ingredients in a saucepan and bring to a boil. Add the kinmedai fillets, skin side up.

When the bottom of the fish starts to turn an opaque white, add the ginger. Cover with a drop lid and simmer on medium heat for about 15 minutes, scooping the broth over the fish occasionally – do not flip over the fish as it might break apart!

Add the green vegetables of your choice to give a nice contrast in colour, and continue to cook until the fish has absorbed all the broth.