Nanohana is a variety of edible rapeseed plant, grown in Asia both for its oil and as a vegetable. It is in season in Japan from late December through March, so it's a welcome sight as a symbol of the coming spring. Nanohana is an excellent source of vitamin C, calcium and iron, among others, and has a crisp, slightly bitter taste.
Karashi is a type of mustard used as a condiment in Japan, and can be found in powder or paste form. It tastes like a cross between mustard and wasabi.
One of the reasons why these two Japanese ingredients go together so well is that… they're actually related!
Both nanohana and karashi are members of the Brassicaceae family of plants, so if you can't find either of these in your area, feel free to replace them with another family member. Broccoli, watercress, and komatsuna (Japanese mustard spinach) all make good replacements for nanohana. And although we haven't tried it, both mustard and wasabi are part of the family too, so if you can't find karashi and you're feeling adventurous, give those two a mix and see what happens!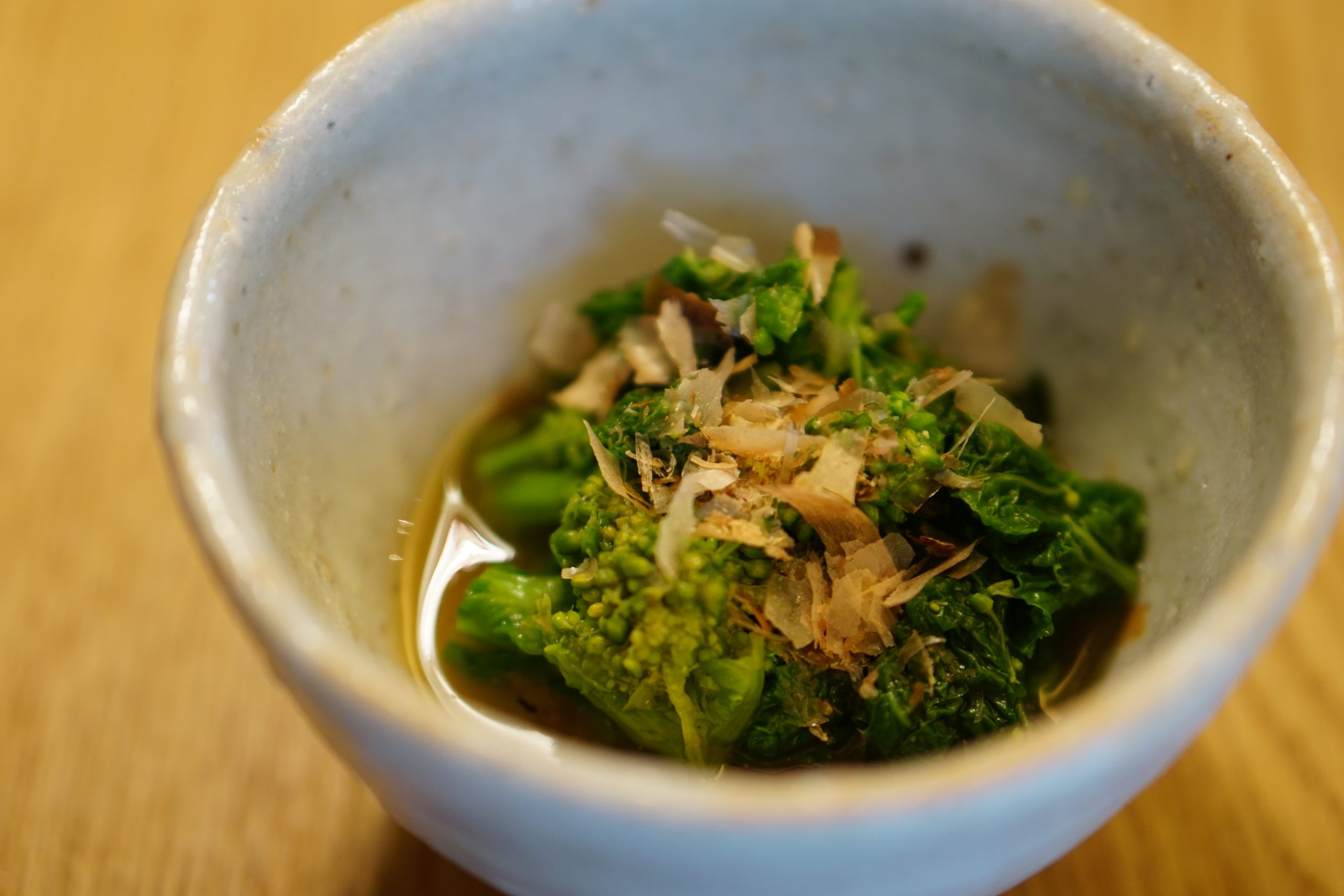 Nanohana with Karashi Dressing
Ingredients
100

g

nanohana

1

pinch

salt

4

tsp

soy sauce

(A)

4

tsp

mirin

(A)

300

mL

dashi broth

(A)

½

tsp

karashi paste

katsuobushi

to taste
Instructions
Put some water in a pot and bring to a boil. Add a pinch of salt and the nanohana, and cook until slightly softened, about 1 minute.Drain and rinse under cold running water, then squeeze out the excess liquid and chop, discarding the stems.

Put (A) in a saucepan and bring to the boil. Turn off the heat and add the nanohana, setting aside for 30 minutes.**If you're in a big hurry you can proceed to step 2 without leaving to soak, but the bitter leaves and the savoury broth won't have time to deepen and exchange flavours.

Drain the nanohana, reserving the liquid. Add the karashi paste to the liquid and mix well.

Serve the nanohana with the karashi dressing and add some katsuobushi flakes to taste.