Tamagoyaki, literally meaning 'cooked egg', is a dish in which thin layers of egg crepe are rolled into a log. Although it is thought of by many as a traditional dish, tamagoyaki came about in the 1950s, when the Japanese government started promoting eggs as a cheap source of protein. It is a staple in many Japanese children's bento boxes as well as a quick and easy breakfast dish.
The more refined version of tamagoyaki is called dashimaki tamago. As the name implies, this Japanese recipe includes dashi broth, and is usually not sweet. The added liquid is a double-edged sword: it's more difficult to roll without breaking, but results in a moist, umami-rich egg roll with a taste so subtle and elegant it is often used as a benchmark for Japanese restaurants' quality.
When making either of these dishes, it's essential to keep the pan lightly oiled so the egg doesn't stick. You can use the rectangular makiyakinabe frying pan, but it's not a must. Feel free to change it up by adding other ingredients to tamagoyaki, such as spinach, scallions or chirimenjako (sardine whitebait).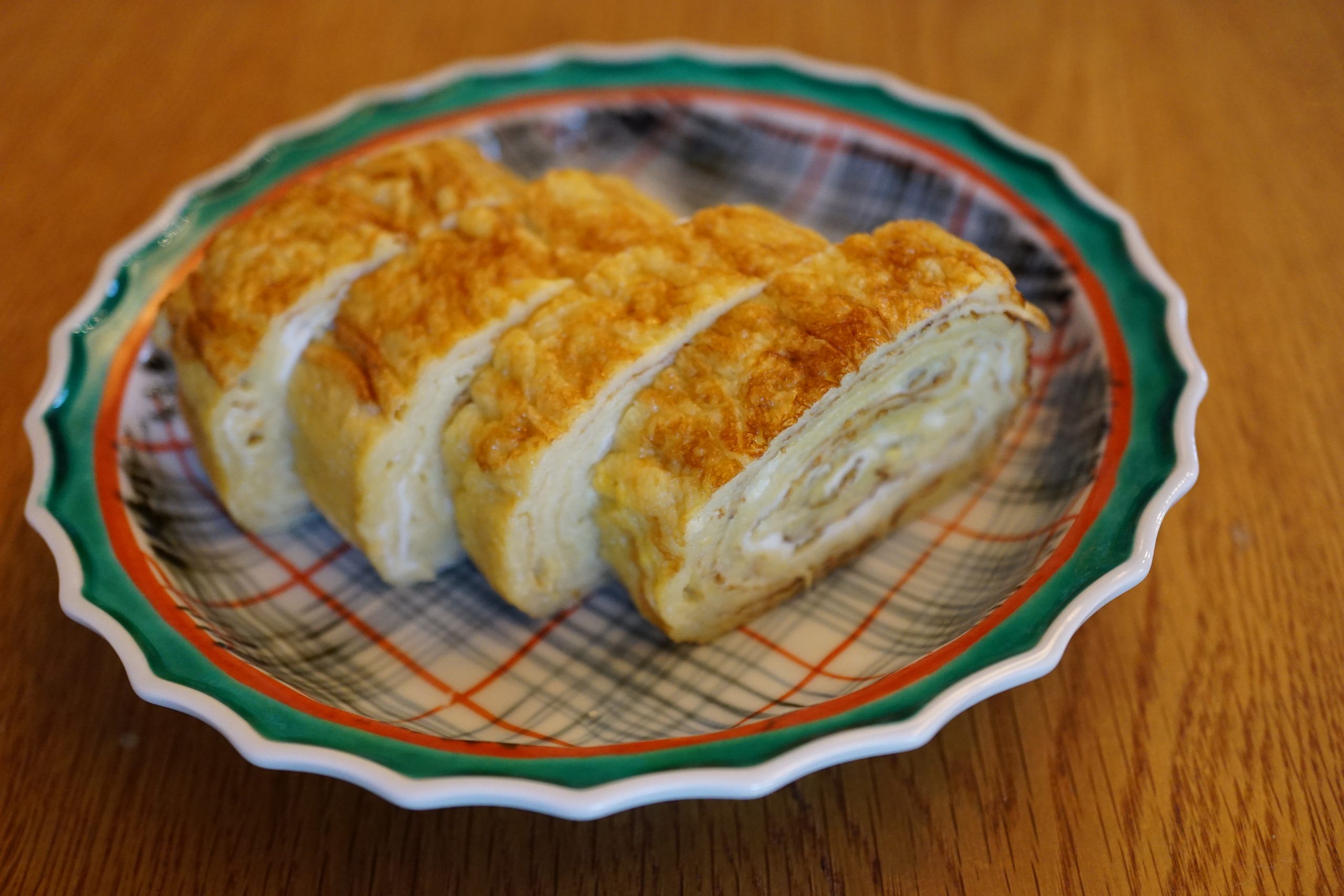 Tamagoyaki
Ingredients
2

eggs

2½

tsp

sugar

2

tsp

soy sauce
Instructions
Mix the eggs together in a bowl. Add the sugar and soy sauce, and mix.

Heat a small frying pan, or rectangular makiyakinabe, to medium and add some vegetable oil. Put a drop of the egg mix onto the pan to check the heat – if it sizzles, it's hot enough! Add just enough egg mix to coat the pan. Poke at any air bubbles that may appear.

As soon as the egg mix is no longer liquid, use some cooking chopsticks (or a spatula, though I find chopsticks easier!) to roll the flat egg crepe into a log, from one side of the pan to the other.

Add a bit of oil to the empty side of the pan, then add some more egg mix. Coat the pan, lifting the cooked egg roll to make sure some liquid goes underneath it. Roll again. Repeat until you've used up all the egg mix.

Use some cling wrap or a bamboo mat to shape the egg roll (optional), then cut into 1cm thick slices.