Spring has a very strong atmosphere of renewal in Japan. Everywhere you look, there are signs of new beginnings, from the parks full of cherry trees in bloom to the changing of the school year, to recent graduates dressed all dressed in the same black "new recruit" suit for their first full-time jobs! And as local cuisine follows the change of seasons quite closely, there are many types of food to look forward to in spring as well.
One of these is the bamboo shoot, or takenoko (bamboo's child) in Japanese. This low-calorie, high-fibre vegetable has a neutral taste similar to artichoke hearts, and a satisfyingly soft yet crunchy texture when cooked. Bamboo shoots are best when freshly dug in the morning, then quickly boiled, and finally soaked in rice bran (nuka) before they can be used in cooking. In fact, there is an old saying in Japan that one should start boiling the water for the bamboo shoots before going out to dig them up! Canned or vacuum-packed bamboo shoots are probably easier to find outside of Japan, though the taste, texture, nutritional value and size/cut will be different.
The name of this Japanese recipe means simmered (ni) wakame seaweed and bamboo shoots (takenoko)  We used fresh wakame – if you can get your hands on some, make sure to rinse off the salt before cooking. If using dry wakame, reconstitute in water according to package instructions before cooking. Either way, don't overcook the wakame or it'll become slimy!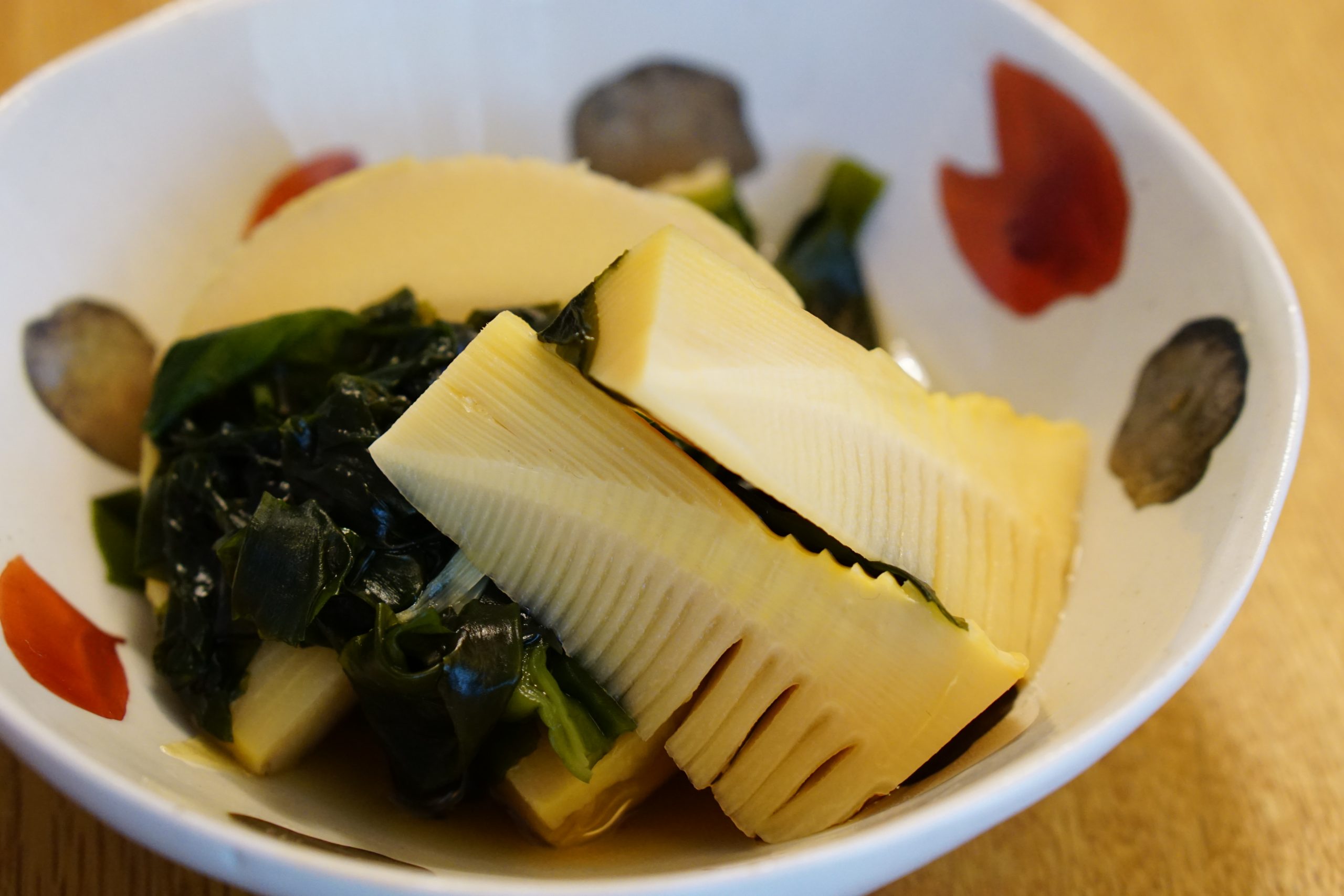 Wakatake Ni
Ingredients
300

g

bamboo shoots

pre-boilded

30

g

wakame

fresh or reconstituted

300

mL

dashi

200mL + 100mL

2

tbsp

sugar

1½

tbsp

soy sauce

light-flavoured version if possible, but regular strong-flavoured soy sauce works too

1

pinch

salt
Instructions
Cut the upper part of the bamboo in half lengthwise, then cut into 3-4 wedges, again lengthwise (pieces shown on the left side of the photo).Cut the lower part in half and then cut into about 1cm thick half-moon slices (pieces shown on the right).

Put 200 mL of dashi in a pot to boil with the bamboo shoots.

Add the simmering ingredients, cover with a drop lid (we improvised with a drop lid made of parchment paper here), and cook over medium for 30 minutes.

Cut the wakame into 3-4 cm lengths and add it to the pot, along with the remaining 100 mL of dashi broth. Heat it up and serve.