Nimono means simmered (niru) thing (mono). In this nimono dish, the chicken is first cooked skin-side down, generating a lot of oil. You can remove the excess oil with a paper towel if you like. The daikon will absorb all of the chicken and seasoning juices for a superb umami taste!
Daikon is a winter radish that looks like a big white carrot. When raw, it has a beautiful, crisp texture and slightly peppery taste. In a simmered dish like this, daikon's taste mellows and sweetens. It absorbs the flavours of its neighbouring ingredients impeccably, and its tender texture almost melts in your mouth. Simmered daikon is the ingredient co-star that steals the show!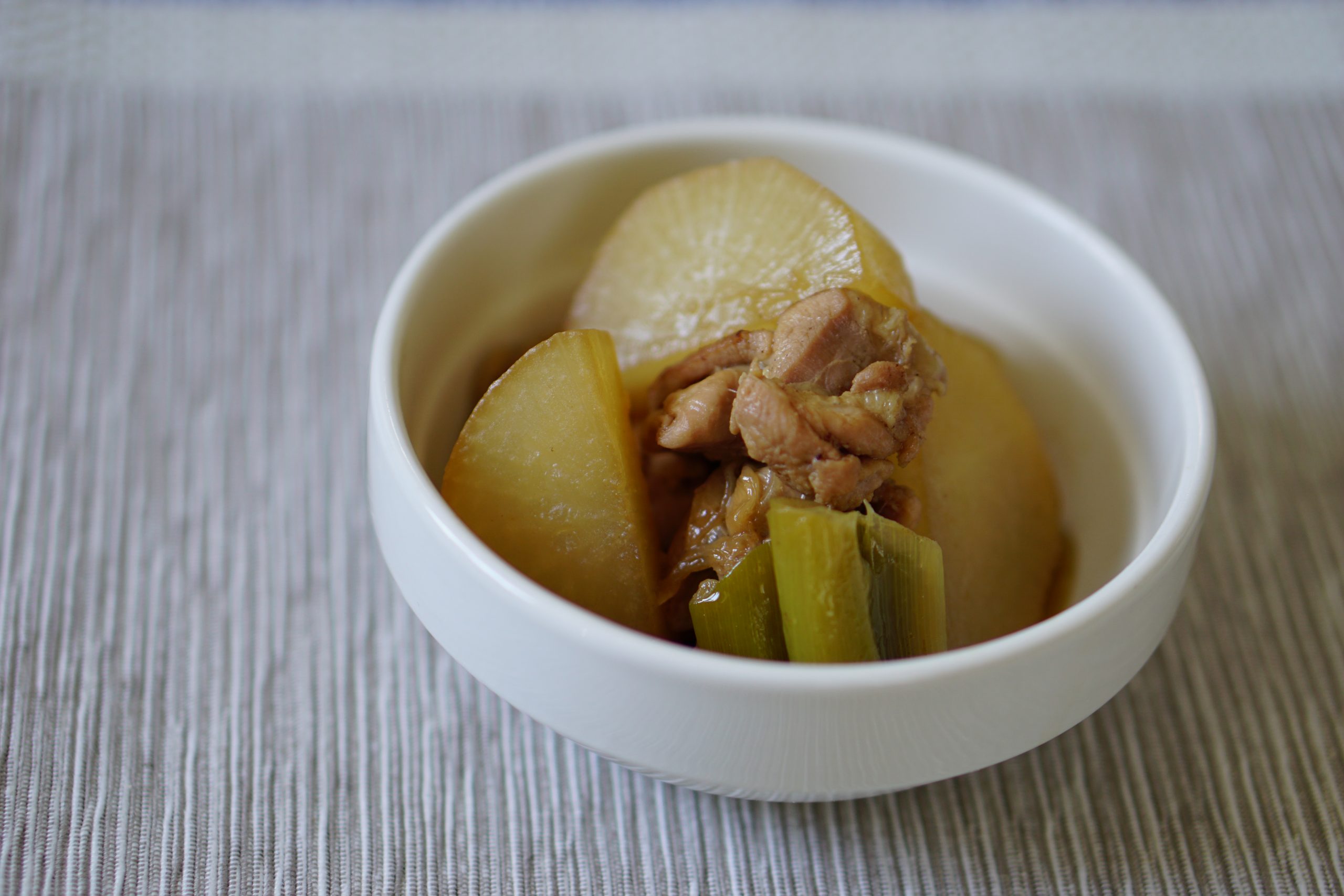 Chicken and Daikon Nimono
Ingredients
200

g

boneless chicken thigh meat

300

g

daikon

½

stalk

naganegi (Welsh onion)

½

inch piece

ginger

1

tbsp

vegetable oil

2

cups

dashi

(seasoning)

¼

cup

sake

(seasoning)

2½

tbsp

soy sauce

(seasoning)

2

tbsp

sugar

(seasoning)

1

tsp

mirin

(seasoning)
Instructions
「PREP」Pierce the chicken a few times on the skin side with a fork, and cut into bite-sized pieces. Julienne the ginger into short strips and cut the naganegi into thick diagonal slices. Cut the daikon in half lengthwise, then cut into half-moon shaped slices. Combine the seasoning ingredients in a bowl.

Heat the vegetable oil in a pot or deep pan, then add the negi and ginger and lightly stir-fry. Add the chicken and cook until it changes colour.

Add the daikon slices and cook on both sides until their colour starts to change.

Pour in the seasoning liquid and bring to a boil over high heat. Remove the surface scum and reduce heat to a low simmer. Cover with a lid and cook for another 20 minutes, then serve.
Did you make this recipe?
Please let us know how it turned out for you! Leave a comment below and tag @oishiwashokurecipes on Instagram and hashtag it #oishiwashokurecipes.